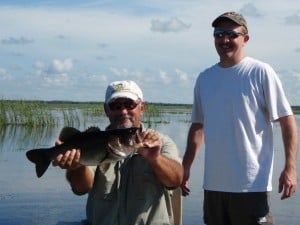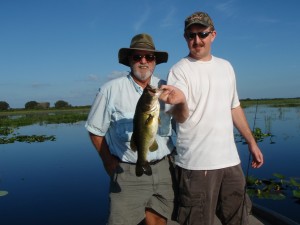 Matthew Becks was wondering around Bass Pro Shop with his wife on their customer appreciation rewards night when his wife hit the jack pot by winning the free guided fishing trip that was given away. Yes, Mathew's wife Colleen Beck won the freshwater bass fishing trip given by Bass Pro for Customers Appreciation rewards night.
Coleen the loving wife she is, gave the trip to her husband and favorite Uncle George. So, Mathew and Uncle George became the lucky Anglers that are going fishing on Lake Toho known for producing trophy bass.
Finally the day arrives and the fish did what they do EAT, 26 largemouth bass with a big fish of 4 pounds graced the line which made it a day to remenber. The only thing that would have improved the day would have been to have landed the other 15 plus we missed in the grass or maybe a 10 pounder.
Well that's why they call it fishing…and not catching.
Thanks Matthew, George and especially Colleen!
Till next time tight lines and good fishing….
From Staff Writer Capt John Leech (johnl@bassonline.com)
BassOnline.com / 888-829-BASS