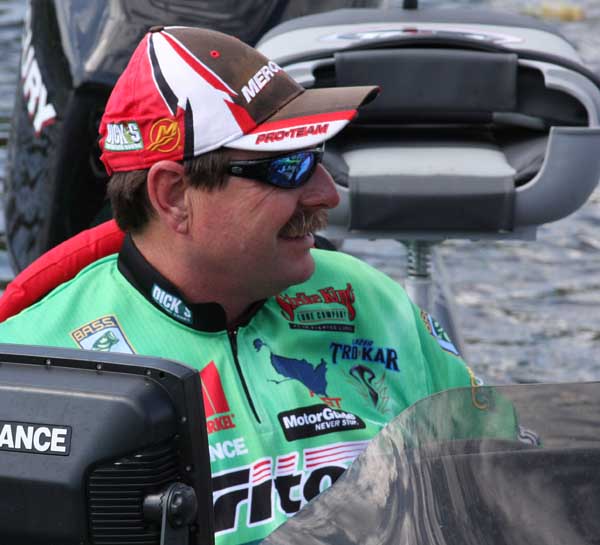 It's the last chance to grab a "Golden Ticket" to the Classic.
Roland Martin 2011
Ken Duke
The great Roland Martin will be fighting to make his 26th Bassmaster Classic at the Wild Card tournament on Lake Okeechobee.
RELATED STORIES
The Wild Card: It could be interesting
2013 Bass Pro Shops Pro Tour Fishing Team Program adds new incentives
Star brite teams with B.A.S.S for Wild Card
Bassmaster Classic field is filling up
Weather won't rule everything, say competitors on Bassmaster Classic eve
ABOUT THE AUTHOR
Ken Duke
Ken Duke
Ken Duke is the Senior Editor of B.A.S.S. Publications. To get your daily dose of bass information, history and trivia, follow him on Twitter @thinkbass.
ALSO BY THE AUTHOR
Wild Card: Room for one more
Beatdown on Okeechobee
Youngsters vie for Bobby Lane Cup in FL
Jeff Kriet changes gears for fall bass
Beatdown (and a sort-of history of flippin')
Bobby Lane stays on top of fall lunkers
An anniversary … of sorts
Tournament creel limits
Mr. Consistency
Today's word: "stability"
By Ken Duke
DEC 4, 2013
Just 49 anglers will take to massive Lake Okeechobee, Dec. 5-7, for the Bassmaster Classic Wild Card presented by Star Tron, but that doesn't detract from the competition level. To paraphrase William Shakespeare, the field is "small but mighty."
Before we take a look at who will be vying for the 56th and final berth in the 2014 Classic on Lake Guntersville, it's interesting to take a look at who won't be there. That's key for a couple of reasons. First, several of Okeechobee's most renowned sticks will be at home rather than fishing. Second, it opens up the tournament to just about everyone in the field, though some will obviously have better odds than others.
Notably missing are several stars of the sport who have dominated on Okeechobee in recent years and who are already qualified for the Classic, so they're not eligible for this tournament. That includes Chris and Bobby Lane, Terry Scroggins and Ish Monroe. The Lanes and Scroggins are always high on the leaderboard at Okeechobee. Monroe won the only Elite Series event on the massive lake. That they're out of the mix bodes well for everyone who's signed up.
Their absence opens the door for the anglers fishing the Wild Card. Chris Lane won B.A.S.S. events on Okeechobee in 2006 and 2010 and finished second in 2012. If he had been in the field for this event, he might have been fishing all alone. Who would want to face-off against him on a lake he practically "owns"?
In all, there are 19 Elite anglers in the field (highlighted on the list below), one former Elite angler (Terry Segraves), two anglers who will join the Elite Series in 2014 (Brandon Lester and Chad Morgenthaler), 13 Floridians, one former Toyota Bassmaster Angler of the Year (nine-time AOY and 19-time B.A.S.S. winner Roland Martin), one former Bassmaster Classic champion (Boyd Duckett) and one former Okeechobee winner (Martin, who won here in 1980 and 1991). The 49 competitors have also combined for 104 previous Classic appearances.
So the field is not short of accolades.
Wild Card anglers rejoice! Chris Lane won't be there! His brother Bobby, Terry Scroggins and Ish Monroe will be sitting at home, too.
Ken Duke
Wild Card anglers rejoice! Chris Lane won't be there! His brother Bobby, Terry Scroggins and Ish Monroe will be sitting at home, too.
But if you had to pick some pre-tournament favorites, it would be impossible to ignore the Florida pros (most of whom have been fishing the Big O for decades), the well-known flippin' and pitching specialists like Greg Hackney and Kelly Jordon, the guys who are getting help from the likes of the Lane brothers (including the third Lane brother, Arnie) and the legendary Roland Martin, who lived on the lake for a couple of decades.
Another thing that makes this tournament interesting is the payout structure. While there's certainly some money at stake here, the real prize and the one thing that all the competitors are after is that Bassmaster Classic berth.
It's like the Golden Ticket in "Willy Wonka and the Chocolate Factory." We're down to the final spot, and the only way to get it is to win. There are no points to accumulate, no moral victories and no putting a good spin on any finish lower than first.
Shaw Grigsby is one of three Elite Floridians fishing the Wild Card. Cliff Prince and Bernie Schultz are the others.
Ken Duke
Shaw Grigsby is one of three Elite Floridians fishing the Wild Card. Cliff Prince and Bernie Schultz are the others.
That's a recipe for tournament fireworks that we usually only see at the Bassmaster Classic.
As you're watching the coverage from this event, keep in mind that it's a battle of attrition lasting three days. After Day 1, half the field could be too far back to win.
Of the two dozen or so still realistically in the hunt after the first day, most will fall by the wayside in the second round. Only 12 anglers will qualify for the finals and a shot at the Classic, and anyone in that group more than nine pounds behind the leader is basically out of it.
Who will earn the final spot in the 2014 Classic? It's anyone's guess, but it'll certainly be one of these anglers:
James Bader, Fruitland Park, Fla.
Shaye Baker, Tallassee, Ala.
Drew Benton, Panama City, Fla.
Blaine Bucy, Weirton, W.Va.
Jamey Caldwell, Carthage, N.C.
Jonathan Carter, South Portland, Me.
Gary Clouse, La Vergne, Tenn.
Joshua Cook, Clarksville, Tenn.
George Crain, Cropwell, Ala.
Boyd Duckett, Guntersville, Ala.
Gene Eisenmann, Frisco, Texas
Chris Gerrein, Villa Hills, Ky.
Shaw Grigsby, Gainesville, Fla.
Greg Hackney, Gonzales, La.
Wil Hardy, Harlem, Ga.
Charlie Hartley, Grove City, Ohio
Jeff Holland, Winter Springs, Fla.
Jamie Horton, Centreville, Ala.
Michael Jackson, San Mateo, Fla.
Kelley Jaye, Dadeville, Ala.
Kelly Jordon, Palestine, Texas
Jeff Kriet, Ardmore, Okla.
Arnie Lane, Lakeland, Fla.
Russ Lane, Prattville, Ala.
Brandon Lester, Fayetteville, Tenn.
Jason Lieblong, Conway, Ark.
Roland Martin, Naples, Fla.
James McMullen, Quakertown, Pa.
Sandy Melvin, Boca Grande, Fla.
Chad Morgenthaler, Coulterville, Ill.
Britt Myers, Lake Wylie, S.C.
Paul Pagnato, Reston, Va.
Patrick Pierce, Jacksonville, Fla.
Keith Poche, Pike Road, Ala.
Cliff Prince, Palatka, Fla.
Derek Remitz, Grant, Ala.
Marty Robinson, Lyman, S.C.
Bradley Roy, Lancaster, Ky.
Bernie Schultz, Gainesville, Ga.
Terry Segraves, Kissimmee, Fla.
Alvin Shaw, Roaring Gap, N.C.
Fletcher Shryock, New Philadelphia, Ohio
Hunter Shryock, Newcomerstown, Ohio
David Smith, Del City, Okla.
Todd Sterner, Mechanicsburg, Pa.
Keith Surber, Longview, Texas
Jesse Tacoronte, Orlando, Fla.
J Todd Tucker, Moultrie, Ga.
Bruce Whitmire, Channelview, Texas
Post Credit: http://www.bassmaster.com/news/wild-card-field-set