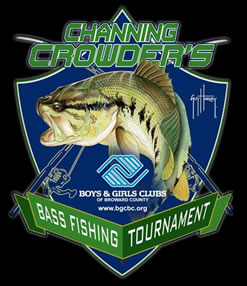 For all those bass anglers who have hoped for a big money tournament in the Everglades, your dream is coming true.
Channing Crowder's Bass Fishing Tournament, which offers an unprecedented $10,000 prize for the top team, is Jan. 31 out of Everglades Holiday Park.
The entry fee is only $100 per angler, so for $200, a two-person team has a great chance for a huge payout for catching five decent fish. Second pays $3,000 and third pays $2,000, with payouts through 10th place with 100 boats.
Proceeds of the event benefit the Boys & Girls Clubs of Broward County, a charity that Crowder, a former Miami Dolphins linebacker who now has a sports talk radio show on WQAM 560-AM, is passionate about.
"Put it this way," said Mike Surman. "It's way better than playing the lottery or going to the casino. And it's a great cause."
Surman, of Boca Raton, is an FLW Tour pro. A member of the Castrol Fishing Team, he is working with Crowder to put on the inaugural event.
The two men got together about three months ago through a mutual friend who is involved with the Boys & Girls Clubs. He knew that Crowder loves to fish for bass and thought he and Surman would have fun fishing together. They scheduled a trip and, in addition to talking about fishing, Crowder talked about his work on behalf of the Boys & Girls Clubs.
"He said it'd be cool to do a fishing event for the Boys & Girls Clubs because there's a million golf tournaments," Surman said. "We brainstormed, came up with some ideas and made a presentation to the Boys & Girls Clubs."
The organization, which promotes education, healthy living and good citizenship so youngsters can become successful adults, gave them the go-ahead.
Crowder and Surman added some nice touches. Surman has more than two dozen of his FLW buddies fishing and Crowder is getting some of his former teammates to fish.
Sponsors, who pay a $2,500 entry fee, will get to fish with an FLW pro and an NFL player or the sponsor can bring a friend to fish with the bass pro.
Teams of two or three anglers can compete. Individuals can pay $100 and be paired with other individuals. All the entry fees are tax-deductible. To enter or for information, visit ccbasstournament.com or contact Kacee Reid at 954-537-1010 ext. 226 or kreid@bgcbc.org.
The weigh-in will be at the Weston home of commissioner Ron Bergeron of the Florida Fish and Wildlife Conservation Commission. Anglers will transport their fish in their boats and weigh them on an FLW Tour stage. FWC personnel will transport the fish back to Everglades Holiday Park.
The weigh-in, which non-anglers can attend for $50, will feature barbecue, drinks and live country music. There will be a silent auction and raffles for everything from fishing trips to autographed sports memorabilia.
Surman said the tournament also is a chance for local anglers to beat up on the pros, who are competing Feb. 6-9 in an FLW Tour event on Lake Okeechobee, and who have never fished in the Everglades.
"They are totally at a disadvantage," Surman said, adding that all of the pros immediately agreed to take part when he asked them. "If they get one day of practice, that'd be a bunch."
But don't be surprised if some pros do well using non-traditional tactics, like slow-rolling a spinnerbait or drop-shotting plastic grubs.
Surman's advice to average anglers just looking to have some fun and help a worthy charity: Don't stay too long in one place unless you're catching quality fish.
"I'd spend a lot of time hunting and moving. Somewhere in that canal system there's a lot of fish and a lot of big fish," Surman said. "You have to figure out the stretches that they're using. Fish 200 or 300 yards and if you don't catch the right one, run a mile or two."