There's room to explore on these largely unfished Osceola County lakes.
It's The Rodney Dangerfield Chain O' Lakes. Right alongside the magnificently named and fun to say Tohopekaliga, it dares names like Coon, Lizzie, Center, Trout for God's sake, and Alligator, like that's a species you don't often find in lakes. No wonder it don't get no respect as its embarrassed water slinks south to join Toho's storied wetness on the journey to what remains of the not-so-Everglades.
Target fish on Coon Lake flats.
It's definitely the water, because when Dan Sardinia and I tried Osceola County's so-called "Forgotten Chain," we didn't get any respect either, from my 9-year-old wise guy Ely.
Like I told Dan on the way there, "He'll catch fish. You may not think it to look at him, but put this boy near water, and he figures out a way."
Ely beat us in all three of his conveniently established categories: first fish, most fish, biggest fish. When Dan tried to salvage a little dignity at the end of the day with "most stumpknockers" (1), it was rejected without consideration.
It was my idea to plumb these neglected depths that were, according to majority opinion, too tannic for good fishing. Dan, a no-holds-barred, fishfinder viewin', "I'm not playing with you fish," devoted angler, had just dedicated the past few months to shooting fish in the drawn down Lake Toho barrel and had become accustomed to instant gratification. Gratification of any sort would elude Dan on this trip, but not Ely, who caught a bluegill on a breadball before we left the ramp and never looked back, except to jeer at Sardinia.
Most of the Trout Lake ramp parking area should be converted to a ballfield. We arrived on a Saturday about an hour after sunup and found three trailers had beaten us there. You can talk about pH all you want, but I'm from Florida and I knew fish would find a way to live in anything that looks this good. These lakes are mostly unspoiled with a few scattered houses on them, lined in lily pads, pine trees and grasses, no hydrilla or other aquatic nuisances. We wanted to find out why their denizens have been granted a virtual amnesty by the local anglers.
Though from New York, Dan had to agree. With a soft jerkbait on, he was going for that lunker. He might as well have been fishing for trout. On the other hand, in a forest-lined, lily pad-dotted cove, his nemesis Ely had a whole live nightcrawler hanging perilously below his bobber. His ultralight rod doubled over, the drag screamed in agony (or ecstasy) and he battled in a hefty, fat 9-inch shellcracker. After all the excitement he looked Dan in the eye and said gleefully, "That's two to nothing."
Now Dan is an elementary school coach and active participant in Teen Anglers, who's used to having the upper hand with kids. He loves them, too, and not just for breakfast. But you can see where this sort of thing would start getting to any serious fisherman. I thought I saw his normally grinning jaw take a hard set just for an instant.
"You catch all these you want," he warned in his baritone drawl, switching to a giant purple artificial worm, "because then I'll catch one 10-pound bass that's going to wipe you out."
"Yeah, right," the blonde angel fired back, instinctively aware that he'd drawn clam chowder, which is what runs in Sardinia's veins.
We could see lily pads and shore grass getting bumped around and I was tossing a squirrel-tail jig, which can get everything. "No wonder you're not catching anything, Dad," Ely instructed. "That jig is just plain black. You should use one of mine with the red tail. They look like they're covered in blood."
"This one should be alright," I assured him, immune to his wiles, as I continued strikeless in this pregnant looking water.
"We're on fish," Dan said hopefully. To prove it, Ely pulled in a smaller shellcracker. "Three to zero to zero."
"That's okay. I'm fishing for bass," Dan restated his mission.
"It's still zero," the relentless niner jabbed.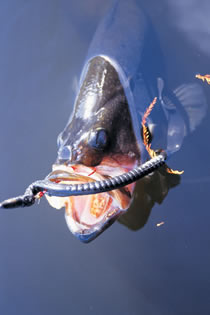 Osceola lake bass just "can't get no respect."
The silent trolling motor pushed our 14-foot bass boat up a lily pad-filled corridor to a stretch with an open line for casting alongside those enticing aquatic plants. We all got nothing, with Ely urging Dan to point us back to where the fish had been. We returned to the spot, where a small inflow seemed to be.
"Smell that?" Dan said. "That's bedding fish."
I took a deep sniff and noticed a slight musty odor. Soon Ely was holding aloft another nice shellcracker, silently pointing at it, apparently aware that a picture is worth a thousand sarcasms.
"You're not gonna cry, are you, when I start beating you?" Dan lashed out with bravado. He and I got nothing and we decided to take a nearby canal to Coon Lake, smallest of the group.
The canal to Coon is wide open with imported rocks lining one shore. The other shore has some nice cover and some live oaks reaching out over one part with three rope swings dangling down. I figured we'd take advantage on the return trip in the heat.
Dan noticed action against the rocks and sure enough, avoided the skunk with a bass only a little shorter than his worm and displayed it proudly.
"I see where you got your name," Ely offered. "That looks like a sardine."
"Alright. It's over for you now. You know what I'm saying? This is the beginning of the end."
"Oooh, I'm so scared," the boy feigned terror.
Further success in the canal escaped Sardinia, and I failed to raise anything on my omnivorous jig. Where it opened into Coon Lake, beautiful flats spread out on each side of the canal, perfect blends of cattail, grass and lily pads, the kind of area where you're ready at every instant to get a strike. I exited the boat with fly rod, leaving Dan with his tormentor. The bottom was firm and my toes felt their way easily through the weeds. Continuing the pattern of revealing themselves to us but refusing to play, fish were splashing all over the place, just perfect for me and my Swann Mylar minnow, I thought.
My partners worked cattails on the fringes and Dan yelled with the exuberance of someone about to shut up a 9-year-old boy. I saw a 2-pound bass rocket into the air and throw his worm and hook. Though I couldn't hear, I'm sure my boy, having been raised properly, said something very sympathetic to him, like, "Gee, that's too bad."
Regular feeding by some debris at the back of the flat got my attention and on the way there, I constantly put the normally irresistible minnow on splash rings by weed patches, with no hits. At the debris it got smashed and I pulled even with Dan, at one bass each.
I reboarded and Dan moved us to the middle of the lake, where he marked loads of fish in six feet of water. Ely and I dropped jigs while Dan continued with worm, all to no avail. Sardinia suspeckted they were specks and I suggested perhaps they were horseye suckers, in which case they'd never bite, exposing a built-in flaw in the fish-finder method, causing people to waste time on uncatchable fish. After a cooling swim, it was time to move on.
In our quest to try out a lot of these lakes, we headed for the canal to Lizzie. This canal features great casting targets—lotta weeds and docks. Dan got a good hit on a worm, which immediately wrapped him around a piling and parted the line. I had a couple quick hits-and-misses on a tiny tube jig and Ely boated a big redbreast on a new nightcrawler.
"It's your fault for bringing the worms," I pointed out to Dan. In Lizzie we parked by some grassbeds and the man named after the mighty sardine made one last cast with his giant worm.
"Okay," he conceded, as it came back in unmolested and desperation took over, "I'm giving up on the lunker. Now I've just got to catch something, anything."
Dan tied on a Beetle Spin and as if on cue, we heard splashing on Ely's line, already Beetle Spin equipped. He fought in a small bass like he could do it whenever he perceived a threat to his lead.
Sardinia snapped. "Alright, Ely, you're done. I hope you enjoyed having the lead, because it's over. You're going down."
"No you're going down."
"How can I go down? I got nowhere to go. I've been in the cellar all day."
To his credit, the two times we encountered another boat, Dan acknowledged the boy's prowess.
Dan found a stark dropoff on his depthfinder that we plowed a few times with no luck. We headed for Alligator.
Dragging a jig under the 192 bridge, my rod received a jolt and I fought in a big speck. "I guess that gives you sole claim to the cellar," I abandoned Dan.
Alligator Lake is the biggest in the chain, and like the others, mostly natural. It was the middle of a broiling afternoon and I cast with little expectation, preferring to take another swim and daydream how fine it would be on the edge of those grassbeds at dawn. Dan Sardinia, on the other hand, wrestled in a 5-inch stumpknocker. It would be his final fish of the day and his nearest approach to my happy boy.
We didn't catch much but the finnies are there and these lakes are a chance to fish practically virgin waters, because almost everyone gets caught in the flow to Lake Toho.
Returning to the ramp, the usually exuberant Sardinia seemed sadly crushed. "The fish beat us," he moaned. "These lakes beat us."
"Don't try to include me and Ely in your defeat," I admonished from second place.
"Is this the first time you've ever been beaten by a nine-year-old?" Ely asked at the ramp. Then we learned our buddy's deep, dark secret.
He hesitated, then gave a reluctant "no."
So then we knew. This was a dé jà vu, the reliving of a past trauma, wound reopened and salt poured in.
We didn't pry further, but Dan was eager to try the rest of the Alligator chain on another day and return to Trout closer to dawn. He's definitely ready to get revenge on Ely.
Me, I'd rather fish these lakes just because other people don't. They're lovely, they look fishy and they have the main ingredient I look for, that you don't find in a popular fishing spot—mystery.
Toho Bypass
If you wake up some morning and feel like doing some exploring instead of just doing what everybody else is doing, head for the South American jungle. Or the Alligator chain off Highway 192, south and east of St. Cloud. According to one expert, the fish can be tough to find, but when you do find them, get ready for a bonanza.
Seriously consider whether you should bring a 9-year-old boy.
Find public boat ramps at the south end of Alligator Lake: the C-Gate 33 boat ramp; and Trout Lake at Trout Landing.
Accelerated urban sprawl is severely threatening this part of Osceola County's nature, so do it soon. FS
First Published Florida Sportsman January 2005
Read more: http://www.floridasportsman.com/2013/12/03/osceola-county-lakes/#ixzz2mWZZPfU3