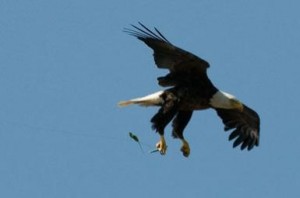 Eagle tangled in fishing line seen around Bonita Springs, public's help sought-By VALLI FINNEY
BONITA SPRINGS — Most everyone knows the majestic bald eagle likes to fish.
But one seen flying over Bonita Springs may have difficulties doing what comes naturally because reports show it has an estimated 200 feet of monofilament line hanging from it.
And that has wildlife rehabilitation experts concerned the symbol of America may become incapacitated or even die if not found.
It also gives wildlife officials a chance to let the public know this isn't a one-time occurrence. Many animals suffer from fishing line injuries each year; some die or are too badly injured to return to the wild.
Too read the complete article:
http://www.naplesnews.com/news/2009/oct/03/eagle-tangled-fishing-line-seen-around-bonita-spri/
Please, from all of us at BASSonline just a reminder not to leave fishing line laying in your boat to blow out. If you break off in the lilly pads as we all do on occasion, make a valid effort to retrieve the excess line and always depose of your line properly.
Till next time tight lines and good fishing….
Posted From Bass Online Staff Writer
BassOnline.com / 888-829-BASS