By Bob Wattendorf, Jason Dotson, Marty Mann and Allen Martin
Florida Fish and Wildlife Conservation Commission
The prespawn period for Florida largemouth bass can produce some of the most exciting fishing of the year – and 2011 has certainly started out exciting. Since bass tune into environmental triggers such as day length, lunar cycle and especially water temperature, timing of the actual spawn can vary. However, generally, once water temperatures rise above 58 degrees, the bedding process will begin and continue in some areas until temperatures are in the mid- to upper-70s.
Action normally starts in southern Florida and proceeds northward, with some bass spawning as early as December or as late as June. A couple days before full or new moons in late Februrary, March or early April are often premier spawning times for Florida bass. Remember, even within a lake, triggering water temperatures can vary significantly based on depth, sun exposure and currents, so not all of the bass spawn at the same time.
Last month in the "Fish Busters' Bulletin" Florida Fish and Wildlife Conservation Commission (FWC) freshwater fisheries biologists identified sites they predicted would be great bass fisheries in 2011. Many of those predictions are becoming a reality. Individual anglers, guides and tournaments statewide are reporting incredible catches. Throughout Florida, there is an upsurge in bass fishing, with anglers catching both big trophies and large numbers of quality-size bass. Anglers are releasing many of those fish and applying to our "Big Catch" angler recognition program (MyFWC.com/Fishing) to memorialize their catch.
Check these examples: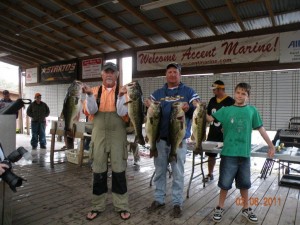 Lake Tohopekaliga – Gerald Swindle won the Toho Bassmaster Southern Open in January with a total of 80 pounds, 13 ounces during a three-day tournament. To accomplish that, he averaged over 5 pounds per bass in his five-fish bag limits each day, coming close to the all-time record of 85 pounds. Bobby Lane, who came in second, also exceeded a five-pound per bass average, limited out and recorded the big fish of the tournament at 11.5 pounds. Under FWC requirements, all bass must be live-released after a permitted tournament, except for the few that can't swim away. Those are donated to charity or used for research.
Lake Kissimmee – Tom Rewis and Doug Chance combined for a five-bass stringer that topped 40 pounds to clinch first place in the Capt. Tony Strickland Memorial Bass Tournament on Lake Kissimmee in early February. That is more than an average of 8 pounds per bass, with their largest being 10.71 pounds – and it was not big enough for first place. The team of Dustin Bozeman and Chris Maxwell took that award with a 10.76-pounder.
Del Milligan (renowned outdoor writer with TheLedger.com) pointed out, "Whether it's Florida, Texas or California, the 40-pound mark is hallowed ground. Rewis and Chance produced one of only three five-fish limits of 40 pounds or more that I've heard of in Florida." Milligan predicted, "The only thing that hasn't happened is a 14- or 15-pounder, and I'll wager that happens within the next few weeks."
Lo and behold, and unbeknown to Milligan – it had already happened. Zack Mack from Murfreesboro, Tennessee, had hooked, fought, landed, weighed and released a 14-pound, 2-ounce Florida largemouth bass on Lake Kissimmee, close to the river's mouth, on Feb 2. Two B.A.S.S. employees were fishing nearby; they witnessed and photographed the catch.
Mark Detweiler of Big Toho Marina reported consistent 24- to 26-pound stringers that keep pouring out of Toho just about every weekend. Tim Coughlin, an FWC biologist involved in habitat restoration and enhancement efforts in the Kissimmee chain, noted that some of the agency's earliest and most persistent efforts to enhance fisheries habitat have taken place on these lakes, from drawdowns and tussock removal to transplanting native vegetation and scraping spawning areas. Stabilized water levels due to flood control have negatively affected fish habitat, causing certain plants to choke out fish habitat and spawning areas. Chemical treatments are routinely necessary to maintain these plants at desirable densities and provide areas for fish to feed and spawn.
It is immensely satisfying when you see the outcome of efforts like this pay off for anglers and the local business community.
Lake Okeechobee – The FLW Tournament on Lake Okeechobee in February was another huge success highlighting Florida's outstanding bass fisheries. Brandon McMillan won it with a 106-pound, 10-ounce, four-day winning weight that set the new Walmart FLW Tour record. Each of the four days he boated more than 25 pounds of bass, some of which were pre-spawn, while others were already post-spawn.
It is especially comforting to see Lake Okeechobee coming back after all the difficulties with water-level issues, hurricanes and the resulting impact on the vegetation community. The FWC responded with specialregulations, habitat improvement projects and even a restocking effort, according to award-winning FWC biologist Don Fox, who has spent nearly 30 years working on the lake.
Rodman Reservoir – Sean Rush of Trophy Bass Expeditions reported, "Rodman may be the hottest trophy bass lake anywhere right now!" He recently documented a one-day trip for two clients who caught and released 50 bass, including one over 12 pounds. Another customer, an "85-year-young" angler, boated bass weighing 11 pounds and 8.5 pounds on one trip.
Fat Daddy's Bait and Tackle Shop in the Ocala Forest defined bass fishing as outstanding. Halfmoon Lake is producing the most trophy fish, including several 10-pound-plus bass this year. Owen's Tackle Shop in Eustis weighed in a 13.2-pound bass in February.
The Tackle Box in Gainesville reported fantastic bass fishing from Orange Lake in 2010, with numerous 10-pound trophies for various anglers and at least one (documented) 14-pounder, caught by Dean Jackson. The FWC modified the existing slot limit on Orange Lake to allow just one bass, per angler, per day longer than 24 inches to be harvested. FWC encourages bass anglers to apply for a "Big Catch" angler recognition certificate (www.MyFWC.com/Fishing), for any bass longer than 24 inches or over 8 pounds that they catch in Florida. Moreover, The Tackle Box in Gainesville is providing special incentives to encourage anglers to document trophy bass from Orange Lake (www.OrangeLake.MyFWC.com). Anglers who register a 10-pound plus bass from Orange Lake and submit appropriate photos are entered into a special drawing for Daiwa Dollars and an opportunity for one lucky angler to win a fishing trip with Shaw Grigsby, tournament angler and host of "One More Cast." Water levels on Orange Lake are low, concentrating bass but making fishing patterns challenging. To help increase your success, checking with locals, review FWC quarterly fishing forecasts (www.MyFWC.com/fishing) or listen to the Wildlife Foundation of Florida's audio updates (www.WildlifeFlorida.org).
The FWC has always considered largemouth bass to be a premier draw for local anglers and tourists and worked to ensure safe and sustainable quality bass fishing opportunities. However, this past year, we redoubled our efforts to reach out to the public, to work with stakeholders involved in the fishing industry, and to review all aspects of our bass fishery management efforts. The result is an evolving Long-Term Black Bass Management Plan for Florida (www.MyFWC.com/fishing), which focuses on new opportunities and enhancing all aspects of conservation programs related to habitat, fish and people. The intent is to make Florida the undisputed bass fishing capital of the world. If fishing success stories, like those reported here, continue to pile up, we are well on our way to meeting that goal.
Instant licenses are available at MyFWC.com/License or by calling 1-888-FISH-FLORIDA (347-4356). Report violators by calling *FWC or #FWC on your cell, or 1888-404-3922. Visit MyFWC.com/Fishing/Updates for more Fish Busters' columns.
Till next time tight lines and good fishing….
From Staff Writer @ Bass Online ( fishing@bassonline.com )
BassOnline.com / 888-829-BASS