Florida Fish Busters' Bulletin
June 2009
Anglers Legacy!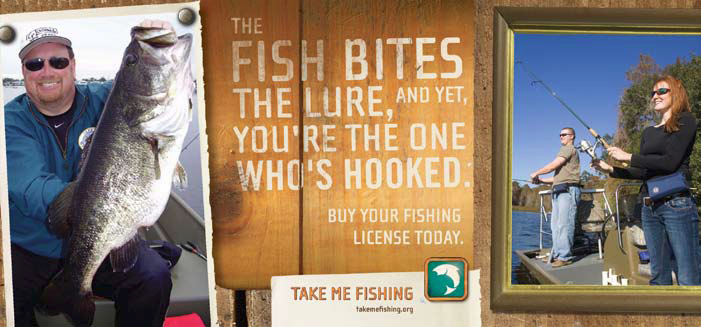 By Bob Wattendorf, Fish and Wildlife Conservation Commission
We Floridians take our fishing seriously. The proof lies in the actions anglers take to ensure a bright fishing future. Between April 1, 2008 and March 31, 2009, 695 active Florida anglers took a pledge to introduce fishing each year to at least one person who had not previously enjoyed the sport.
The Recreational Boating and Fishing Foundation (RBFF) announced the Florida Fish and Wildlife Conservation Commission (FWC) received more Anglers' Legacy pledges than any other state last year. The Anglers' Legacy is important to Floridians for several reasons. First, fishing continues to be one of the most relaxing and satisfying ways for individuals to get outdoors, engage in a fun, active form of recreation and reconnect with nature. Getting outdoors and being active not only leads to a healthier lifestyle, but it also creates endless opportunities for social interactions that can be much more fulfilling when you are away from the television, phone and other interruptions.
In his recent commencement address at the University of Notre Dame, President Barrack Obama related the story of Father Ted Hesburgh, former president emeritus of Notre Dame, who as a member of the Civil Rights Commission in 1964, helped recommend the 12 resolutions that would become the Civil Rights Act. Asked by President Dwight D. Eisenhower how Father Ted managed to lead the Commission to concurrence, his response was "they discovered that they were all fishermen. And so he quickly readied a boat for a twilight trip out on the lake. They fished, and they talked, and they changed the course of history." That is the power of time spent on the water away from other stresses, enjoying nature and communicating openly.
Beyond the benefits to the individual, RBFF research shows that each fulfilled pledge results on average in the purchase of 3.2 fishing licenses, which support critical management and conservation efforts here in Florida and helps ensure the future of recreational fishing. Without those funds, especially in times as fiscally challenging as these, the state would have a difficult time ensuring safe and sustainable fishing opportunities for all of our residents and visitors. Fortunately, a resident license only costs $15.50, and an average angler uses that license for 17 trips a year, each averaging more than four-hours. So fishing can be one of the less expensive forms of recreation, and even allows for realization of the Chinese proverb: "Give a man a fish and you feed him for a day; teach a man to fish and you feed him for a lifetime."
Each new angler who becomes an ambassador receives an Anglers' Legacy decal and additional program communications. There is also a rewards program that includes tailored newsletters, special prizes and benefits to encourage ambassadors to keep on sharing the sport. To take the Anglers' Legacy Pledge yourself, go to: www.takemefishing.org/community/anglers-legacy/take-the-pledge and enter FLFWC09 in the partner code field.
The FWC and RBFF also partner in other ways to learn about what inspires anglers and boaters to get out on the water and enjoy what is often described as one of America's favorite and most traditional pastimes. In the process of learning about our resource users, we seek to find ways to make participation easier and more enjoyable for them. The www.TakeMeFishing.org Web site, as well as our own www.MyFWC.com and www.GetOutdoorsFlorida.net Web sites all build on that learning to provide resources for anglers to find the best times, places and ways to go fishing safely and ethically.
Some anglers also will be receiving a reminder in the mail to renew their fishing license. Anyone who renews their fishing license by Aug. 1, 2009, and then calls 866-967-5600, can receive a free six-month subscription to the popular Florida Wildlife magazine. Historically, Americans have turned to nature to soothe their souls and find relaxation by simply casting a lure and letting their imaginations wander while awaiting the next bite. "Who hears the rippling of rivers will not utterly despair of anything," Henry David Thoreau said. Summer is upon us; maybe it's time for you to renew your fishing license and make the pledge to take a child, friend or stranger fishing and see what history you can make.
Instant licenses are available at MyFWC.com/License or by calling 888-FISH-FLORIDA (347-4356). Report violators by calling *FWC or #FWC on your cell phone, or 888-404-3922. Visit http://www.myfwc.com/Fishing/ for more Fish Busters' columns.
Till next time tight lines and good fishing….
From Staff Writer BASSonline) fishing@bassonline.com
BassOnline.com / 888-829-BASS