Florida Spring Break 2015 — (ReleaseWire) — 02/27/2015 — As spring break plans are being put into action, those spending their break in Sunny Florida should look at various activities to make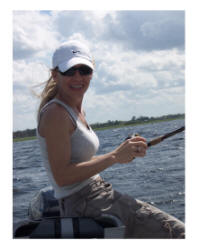 the trip memorable. Offering a personalized experience on the water in the SunShine State, iOutdoor Adventures which is announcing they are now booking trophy bass fishing trips, inshore fishing trips as well as deep-sea fishing excursions for families and groups on spring break vacation. Known as the most reputable fishing charter outfitter and largest in Florida they are familiar with all the great waterways and consistently finds the areas that have the best bite and most fishing action.
Catering to skillful and novice anglers with great instructors, which makes a fishing trip perfect for anglers of all levels. Whether a beginner or seasoned pro, our unique approach to customer service will teach all guests different tips and techniques. There are 4 hour, 6 hour, 8 hour and customized trips available when reserving a fishing tour. Though the catch varies depending on location and species, it's not uncommon to catch multiple species in one trip. As well, you never have to worry about being disappointed in not catching fish as they offer 100% NO Fish, No Pay policy on all the fishing charters.
An added benefit brings Florida spring break 2015 vacationers the pleasure of experiencing alligators and bird watching while aboard many charters. It offers a very unique experience every time the charter embarks on an excursion, there are packages to fit the budgets and preferences of every family and group.
Booking for Spring Break 2015
Reserving a spot on a Florida fishing charter is an easy online process when visiting the websites like this one. Select a destination, length of trip, date and time that fits the itinerary and the fishing trip of a lifetime with iOutdoor Fishing Charters awaits you. Browse the positive reviews on their profile, and join there TEAM for a unique day on the water enjoying the Florida Sunshine.
About Florida Fishing Network
iOutdoor Fishing Charters is a family-owned and operated company that are natives to Florida. People who enjoy fishing charters get to experience the customers of this company are treated, like a member of the family. Led by an experienced Captain himself, visitors will experience fishing trips that will never be forgotten. iOutdoor Fishing Charters caters to novice fisherman, die-hard fishermen and those looking to experience a trip of a lifetime. The company offers Florida fishing packages that are flexible and reasonably priced for everyone.
For more information, please visit http://www.ioutdoor.com/ http://bassonline.com