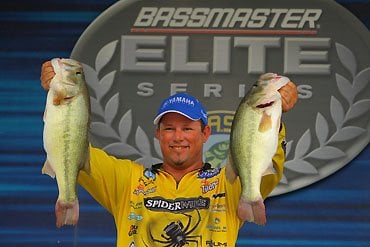 Yesterday Bobby Lane weighed almost 30 pounds and took the lead at the Kentucky Lake Elite Series. This guy is good! I have fished with him so I have seen it first hand. I fished the Bassmaster Southern Open on The Harris Chain in January this year and drew him on the first day.

At the time I was excited and couldn't believe I was going to fish with him. It was an awesome opportunity to fish with such a good fisherman. As a co-angler, you are really there to learn and get better. I learned quite a bit from him on sight fishing Florida style. I'm still pretty new to Florida and had never really sight fished in dirty water.
We spent the entire day in the reeds fishing for bedding fish. He whacked 20 pounds that day on the way to a 3rd place finish for the event. The bad thing about fishing with pros of this level is they leave nothing behind….I only caught one fish that day, he was a machine and caught everything in sight. But I did have a great time and it was worth the entire trip.
Here is a link to the full story on Bassmaster.
Till next time tight lines and good fishing….
From Bass Online Staff Writer
BassOnline.com / 888-829-BASS