The Florida Fish and Wildlife Conservation Commission's (FWC) executive director, Nick Wiley, recently spoke at the Florida Outdoor Writers Association's (FOWA) annual meeting in Tallahassee. Other FWC staff, including Greg Holder, assistant executive director, came to talk about key issues affecting Florida's fish and wildlife and recreational use of those resources.
The meeting included the introduction of the new book "Beyond Seasons' End," edited by the Wildlife Management Institute and Theodore Roosevelt Conservation Partnership and printed by the Bipartisan Policy Center. Free copies are availableonline at SeasonsEnd.org. "Beyond Seasons' End" is the sequel to "Seasons' End." "Seasons' End," published in 2008, revealed the threat to hunting and fishing because of global climate changes, which includes some key concerns for Florida. The new book goes beyond that and begins describing "a path forward for fish and wildlife in the era of climate change," with specific projects and goals considered.
John Cooper, from the Bipartisan Policy Center, stressed that although the cause may be disputed, there have been significant changes to global weather patterns over the past 25 years and anglers and hunters should be concerned with the effects of those changes. There has been a 2°F increase in average annual temperatures in the Southeast since 1970, according to GlobalChange.gov/usimpacts, and this summer showed both record highs and records for the number of sustained days over 90°F. Rainfall patterns also are shifting from historic norms.
Cooper pointed out that whether or not man can be directly linked to some or all of the changes, the changes are happening and the conservation measures suggested for minimizing the effects are important from a stewardship perspective. Reducing pollution, conserving energy and planning for future needs of fish and wildlife populations should be carried out aggressively regardless of relative effects of cyclical weather patterns versus anthropogenic (caused by man) sources, if we want to ensure healthy ecosystems that support recreational fishing and hunting.
Wiley pointed out that 2010 has been a tough year for Florida's fish and wildlife, beginning with the January cold snap that led to numerous fish kills around the state and then the Deepwater Horizon oil spill with its untold impacts to fish and wildlife. In both events, the sudden impact on fish and wildlife was highly visible, and anglers, hunters and other wildlife lovers responded in force with donations and volunteer efforts. However, the impacts of global climate change will have much more impact than both of those events combined. Yet it is difficult to get anyone excited about climate issues, Wiley said. He compared it to a hunter who doesn't worry too much about a forest slowly being deforested until it impacts his tree stand.
Wiley talked about the FWC's workshop, Florida's Wildlife: On the front line of climate change, held in October 2008. Since then the FWC and other science-based state and federal agencies and universities have been documenting potential alterations and planning how to adapt to them, while at the same time encouraging residents to use common sense to reduce pollution, carbon emissions and other deleterious impacts on habitat.
Planning activities include Wiley's participation on the Governor's Economic Task Force, where recognition of the huge fiscal impact that recreational use of fish and wildlife has on Florida's economy (estimated at more than $12 billion) is front and center. Moreover, VISIT FLORIDA the state tourism agency has recognized the importance of helping to promote Florida's bona fide status as the "Fishing Capital of the World." The Division of Freshwater Fisheries Management, meanwhile, is creating a new black bass management plan. They are seeking public input on the first draft that was created using input from nearly 5,000 resource users and a technical assistance group comprised of Floridians whose businesses and recreational enjoyment depend on wise management of our bass fisheries. Climate change is addressed in the plan, but other more prominent focal areas needing public input are issues such as management of hydrilla and other nonnative aquatic plants and fish, tournament management, trophy bass documentation, habitat enhancement, fish stocking and the pros and cons of more detailed and flexible fisheries regulations versus more standardized regulations. (To comment on the current draft, whi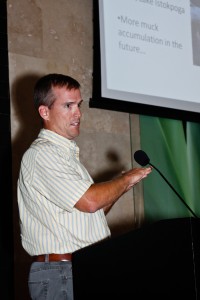 ch is still in the formative stage, visit MyFWC.com/BassPlan_Survey.)
Dr. Mike Allen, from the University of Florida, has coauthored chapters in both books relating to climate change impacts on warm water fishes. His whitepaper and the science-based references that support it are found online at SeasonsEnd.org.Among the issues he highlighted for Florida would be effects of more severe flood-drought cycles, the impact of rising sea levels and saltwater intrusion, changing the competitive advantages some nonnative fishes may have and the need for more aggressive habitat restoration and enhancement projects. In the past 215 years, there have been two hot records set for every cold record.
Jon Oetting, with Florida Natural Areas Inventory at Florida State University, said the expectation is that sea levels will rise approximately one-inch per decade resulting in a 3-9 foot increase in mean sea level by 2100. Such an increase would affect many species of plants and animals, flood low lying shorelines, alter saltwater marshes, and increase saltwater intrusion into Florida's aquifer, increasing water shortages. Even increases at the lower 3-foot level would impact barrier islands, shifting them inland, increase coral bleaching, increase the acidity of saltwater and cause people to migrate inland causing new development and construction to further impact native habitats.
Rodney Smith, editor of Coastal Angler Magazine, pointed out that Florida is the flattest state in the union, and with our limestone topography Florida's springs are also in jeopardy of substantial impacts. Already 33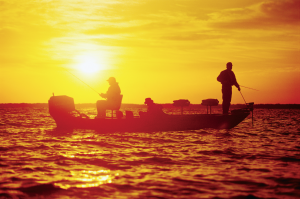 percent of Florida's counties are reporting water shortages that may relate to climate change. He spoke of observable changes in the Indian River Lagoon where he grew up and emphasized the need for anglers and boaters to understand what could happen in the next few generations. At the FOWA conference, Smith, who is also founder of Anglers for Conservation, received Bass Pro Shop's Pass-it-On Award. So his dedication and concern for future generations of anglers is a constant focus for him in his publications and non-profit organization.
During panel discussions including all of the above speakers, Tommy Thompson, Executive Director of FOWA and moderator for the newsmakers' session, asked the panel what could be done. Cooper pointed out that all politics are local, and it is critical for Floridians to speak up about issues that concern them. Audience members emphasized the importance of getting word out about the importance of fish- and wildlife-related recreation to Florida and the extended benefits to real estate, tourism and quality of life. Wiley said that reducing carbon footprints, minimizing energy waste, protecting and restoring habitats, connecting wildlife corridors and building resiliency are all things that we can and must do.
Instant licenses are available at MyFWC.com/License or by calling 888-FISH-FLORIDA (347-4356). Report violators by calling *FWC or #FWC on your cell phone, or 888-404-3922. Visit http://www.myfwc.com/Fishing/ for more Fish Busters' columns.
Till next time tight lines and good fishing….
From Staff Writer BASSonline – fishing@bassonline.com
BassOnline.com / 888-829-BASS