G.Loomis introduces a number of new series of application specific rods
Introduction: G.Loomis presented a number of new series of rods at the show with even more application specific bass rods as well as the "Pro-Green" series designed for inshore anglers in the Gulf and Atlantic coasts.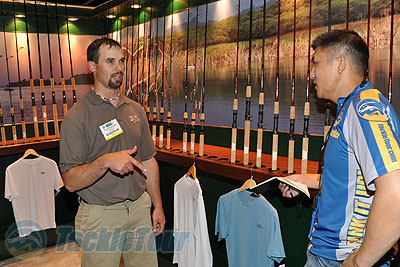 Dave Brinkerhoff talks to Zander about the multiple new lineups being introduced at the show
New rods in very applications specific areas including fishing rip or jerk baits and frogs. All of these new rods will reach store shelves near the October time frame.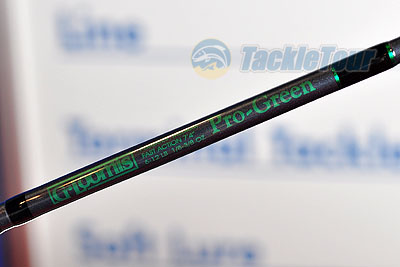 First it was the Pro-Blue, now there is the Pro-Green for inshore applications
Pro-Green: First it was the Pro-Blue, now there is the Pro-Green. It wasn't all freshwater for Loomis this show and the Pro-Green was a big hit among buyers, and took home top honors in the "Best of Show – Saltwater Rod category. The rods feature a grey blank that could easily be mistaken as a IMX or GLX rod series rod save for the green threading and logos on the side. These rods were created specifically for casting small jigs and soft plastics for inshore species like redfish, seatrout, permit, and small tarpon on the Gulf coast. They are also powerful enough to handle school sized blues and stripers along the Atlantic coast. There are a total of nine new rods in this series ranging in lengths from 6'10" to 7'10" and all are fast action with a medium or medium-heavy rating. All of these one piece rods will retail from $240-$270 dollars depending on model.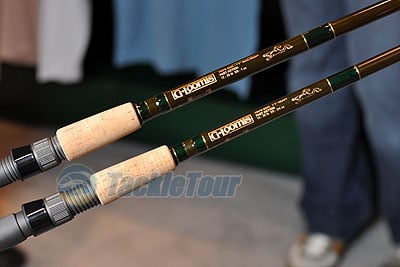 Finally a G.Loomis frog rod that feels worthy of the brand
Frog Series Redefined:We miss the mark on the previous G.Loomis's frog rods, well G.Loomis has gone back to the drawing board and is introducing two new frog rods that are designed to be both ultra-powerful and light weight rods that we are accustom too. The minute we picked up the rods we started to smile, finally these were the frog rods we knew Loomis could build, as they felt much more crisp, balanced, and lightweight.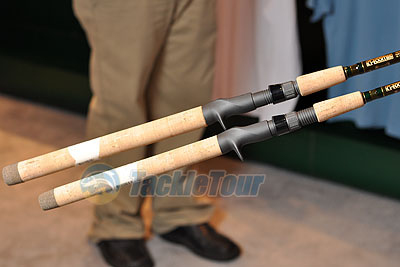 The new rods are a better balance of weight and power
There is a 7'9″ rod with a mag heavy power rating for thick weeds and a 7'1″ rod with a heavy power rating for walking frogs in open water. The lighter rod retails for $250 dollars and the big stick will cost just 15 dollars more.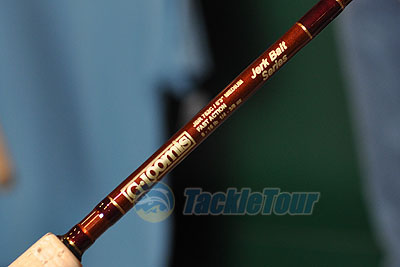 The new G.Loomis jerkbait rods have more power in the butt section
Jerkbait Series: Also new this year is a new lineup of jerkbait rods which are designed with fast tips and progressive tapers in the mid section of the rod so that anglers can work the pause and retrieve technique that is so deadly for bass in colder water. G.Loomis has designed these rods with extra power in the lower section to allow for better fish fighting control as well as increased casting distance. There are four new rods in this series ranging from 6'3″ to 6'9″ in length and with pricing from $235 to $250 dollars depending on length and model.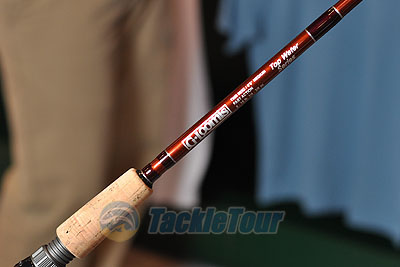 The topwater rods offer increased accuracy and control of surface baits
Top Water Series: Like the Jerkbait series the new Top Water series from Loomis features a reddish blank that ties it to the original crank bait series. The new topwater rods were designed with proper balance in mind and these lightweight sticks offer both increased accuracy and control. The tip sections are soft yet surprisingly powerful with a strong butt section for moving big fish quickly. There is a medium rod for small baits and two more powerful rods for larger topwater lures, one fore tight quarters and one for long bomb casts into open water. These three rods are 6'5″ to 7'2″ in length and will retail for $235 to $245 dollars.

A new series of crankbaits rods for those looking for an even softer more parabolic action while cranking
New "Deep Flex" Crankbait rods: It is the year of the crank baby, and Loomis extend their already large lineup with new "deep flex" models that are designed with a much slower taper and softer flex. These rods felt very light in our hands at are made out of graphite so that sensitivity remains excellent. The softer flex is designed to allow the baits to really work as they are designed to do and absorb plenty of shock when fish strike. There are three rods in this series ranging from 6'8″ to 7'5″ in length and all feature a moderate action. These rods will retail for $245 to $275 dollars.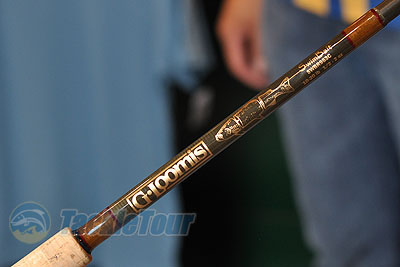 G.Loomis's latest swimbait rod is for throwing the lighter stuff
One Swimbait rod for good measure: In addition to the new application specific rods G.Loomis adds one more new swimbait rod into the mix, and this one is on the lighter side when it comes to where it fits into the spectrum. The new SWBR953 is 7'11" in length with a line weight of 10-20 and a lure weight of 1/2-2oz. with a fast action and a Med-Light power rating. This rod is perfect for smaller paddletail swimbaits style lures, will retail for $270.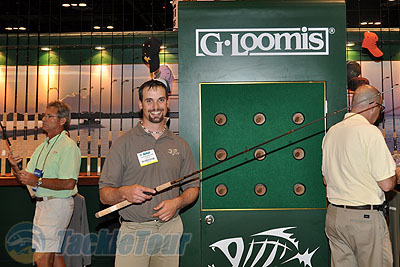 Dave holds up the new Swimbait stick, it is all about getting more application specific while remaining true to the brand identity this year at Loomis
Conclusion: G.Loomis isn't one of those rod companies that comes out with something touted as "revolutionary" and its amazing that they haven't jumped on the split grip bandwagon like just about every other rod manufacturer out there. No, Loomis does things their own way and sticks to the original design concepts that make them, well….a Loomis. The new rods add to the company's massive bass rod offering, and G.Loomis continues to get more and more application specific with each new stick. Whether it is an inshore stick or a ripbait rod we hope you will consider one, and if your looking to kick the tires you can always come to fishing in Florida with states largest outfitter, where we fish on a daily bases with the a complete line of G Loomis rods.
If you have any questions about a specific rod or its use, please do not hestitate to contact us.
Till next time tight lines and good fishing….
From BASSonline Staff Writers (fishing@bassonline.com )
BassOnline.com / 888-829-BASS