Fish Busters
By Bob Wattendorf
Anglers: Get your free goodies for buying a 5-year freshwater fishing license now!
The Florida Fish and Wildlife Conservation Commission (FWC) encourages families to enjoy all the pleasures of recreational fishing in Florida. As a major partner in the Get Outdoors Florida! coalition (www.GetOutdoorsFlorida.org), we recognize the importance of active nature-based recreation in developing happier, healthier and smarter lifestyles for our residents, as well as the added benefit of encouraging a conservation stewardship ethic among resource users.
The angling industry also recognizes the pride Floridians take in our state's recreational fishing heritage and designation as Fishing Capital of the World. According to the last several national surveys by the U.S. Census Bureau dealing with fishing and wildlife-associated recreation, more people fish in Florida than in any other state, and more tourists come here to fish and spend their money than anywhere else in the country. Like the FWC, the angling industry wants to keep it that way and knows the quality of fishing depends on great resources and responsible management.
One way the FWC and their industry partners encourage fishing and provide extra incentives and savings to anglers is via a special 5-year freshwater fishing license bonus program. Beginning March 1, the first 3,000 anglers to upgrade to a 5-year freshwater fishing license will receive a special incentive in the form of free tackle, publications and fishing accessories that add to the convenience and cost savings already associated with a 5-year license. Matched with the priceless memories created from your fishing experiences, the FWC makes this a deal difficult to resist. A 5-year license costs just $79, plus a convenience fee, but in return you know the fees won't increase while you have your license, and you don't need to worry about renewing for five years. For most anglers, that amounts to barely a dollar per fishing trip, or about one quarter per hour, for healthy, relaxing recreation that allows you to connect with your family and friends in a fun, stress free environment — and maybe even take home a free meal or two.
The bonus package literally has you covered "hook, line and sinker." The first 3,000 customers to upgrade to a 5-year freshwater fishing license after March 1 not only save from $6 to more than $20 in fees compared to buying five 1-year licenses, but also receive a free bonus package by mail with samples, magazines and coupons from fishing-related companies. Some of the items offered include free hooks from Tru-Turn and Owner, jigs from Fish Vision, a free spool of Spiderwire fishing line from Berkley, lead-free sinkers from Bullet Weights, and biodegradalbe lures from Fish Bites and Stubby Steve's. Also in the package is a variety of useful literature to help ensure a safe-and-sustainable fishing trip, including Florida Wildlife magazine, freshwater regulations booklet, boating safety, fish id charts, Polk county fishing maps, and a Nature Rocks brochure. Also thrown in are Catch-and-Release (Sure Life) for your live well, a retractor for your angling tools (Power Pole), instructions and special "Fishhook Removal String," plus coupons for fishing or paddling trips (Bass Online, Canoe Outpost), educatonal programs (Ladies Lets Go Fishing), fuel supplements (Fuel Medics) for your boat motor, and top-of-the-line polarized fishing sunglasses (Ocean Waves).
Five-year licenses are available online at MyFWC.com/License and via the toll-free phone number, 888-347-4356. In addition, they may be purchased at any license agent, such as retail stores that sell fishing supplies and bait-and-tackle shops or at local county tax collectors' offices. Even if your current license hasn't expired, you can order a 5-year license now and have the effective date for the license set for up to 60 days after the purchase. The package typically arrives in three to four weeks, without you or the agent having to do anything else.
Invest in your own healthy, fun-filled future – buy a 5-year freshwater fishing license today. You'll not only be getting all these goodies for free, but also giving back to the resource. Fishing license fees are used only for fish and wildlife conservation purposes and are a major source of funding for conservation programs, from habitat restoration to fish stocking and fishing-access enhancement. In addition, each 5-year license allows us to recover the excise taxes that you already pay the federal government on fishing tackle and motor boat fuel taxes to use here in Florida for Sportfish Restoration Programs, boating access enhancement and boating safety.
For information about local fishing opportunities, visit MyFWC.com/Fishing, where you can also verify that you will be one of the first 3,000 and see all of the bonus package contents.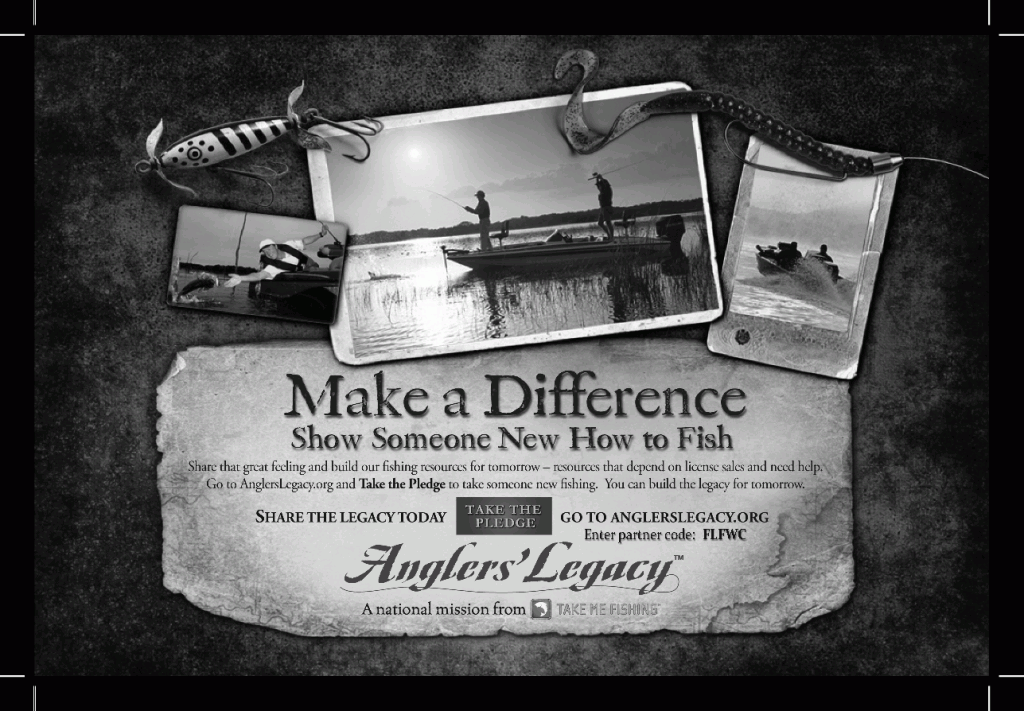 One final note, the FWC has designated the weekend of April 3 and 4 (Easter weekend) as Free Fishing Weekend. Both residents and nonresidents can fish in public fresh waters across the state without a license. All other fishing rules apply (see MyFWC.com/Fishing). This is a great opportunity for experienced anglers to share their love of the sport with family and friends. In fact, why not join the thousands of anglers who have taken the Anglers' Legacy Pledge (www.AnglersLegacy.org and enter partner code FLFWC)? Anglers' Legacy is about giving back what you've been given, and making a promise to introduce somebody new to fishing. There's no membership fee and no obligation—it's just a way to help spread the fun of one of America's most popular traditions and share our fishing heritage with others.
Till next time tight lines and good fishing….
From Staff Writer BASSonline – fishing@bassonline.com
BassOnline.com / 888-829-BASS