Dean Belits stormed threw the Holiday Park Opens winning 3 in a row. after winning his club tournament on the Alley he knew he could make some noise. When the Alley location was drawn for the King Series Classic Friday night; to Dean, it fell right in his game plan with the tournament being a east/west shootout on the Alley. Even with a big stringer weighed in by Jeff Justice and Danny Shelton the field thought Deans luck was out but then he proved them wrong weighing in a massive Everglades stringer to capture his 4th open win and the King of the Glades Series Crown.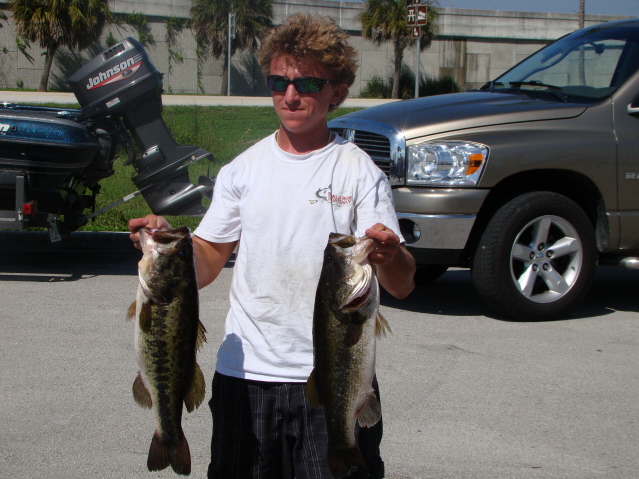 Here are the 2010 King Of The Glades 4 Top 5 —————
1st place — Dean Belits —– 25.33 lbs
2nd place Danny Shelton and Jeff Justice —22.56 lbs
3rd place – Brett Isackson —— 18.76 lbs
4th place – Leo Devaga and Brett Darmody—– 17.95 lbs
5th place – Rick and Josh Bright – 16.95 lbs
6th place – Steve McDonald and Steve Papp – 16.84lbs
7th place- John Pate and JP McKay -16.39lbs
8th place- wayne Fellows and Bruce Swain – 16.16lbs
9th place- Mike and Ryan Hicks -16.10lbs
10th place-Steve Forssell and Wade Davis – 15.36lbs
11th place- Mike Menke and Justin Falzetti – 14.85lbs
12th place- Joel and Justin Mains – 13.63lbs
13th place- Thadeus Ragan and Linda Robinson – 12.58lbs
14th place- Skip Reed and Hank Krieg -12.16lbs
15th Place – Mike Ryan and Bruce Austin – 11.96lbs
16th place- John Farmer and Mark Sommers-11.80lbs
17th place-Eric Seimeca and Hans Forssell-10.68lbs
18th place-Kevin Thomas and Aymon Wilcox – 7.66lbs
19th place- Ray Peterson and Nick Paladino – 0lbs
20th place- Roy Singer and Dave Walker 0lbs
Big Bass — Josh Bright — 6.11 lbs
I would Like to thank all those who fished and sponsored the 2010 King Series ……….,
Bottom Line Mike
Till next time tight lines and good fishing….
From Staff Writer BASSonline – fishing@bassonline.com
BassOnline.com / 888-829-BASS