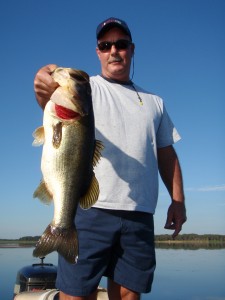 Lake Toho on Saturday Oct 3, 2009, I had Pastor Grady Coven on board for some Bass Fishing in Orlando. Pastor Grady is from Alabama and very familiar with fishing for largemouth bass.
To start the day Pastor Grady said his prayer, Lord just give me one big fish and I will be happy, Amen.
It was a beautiful day and the Pastor landed quite a few fish and one trophy as seen above.
The Lake Toho monster bass weighted in at 8 1/2 pounds and the blessing for the day was answered.
Also noted, for a 8 1/2 pound bass it was a big thick specimen of a Florida largemouth, a real healthy summertime fish.

We appreciate your business and look forward to fishing with in the future.