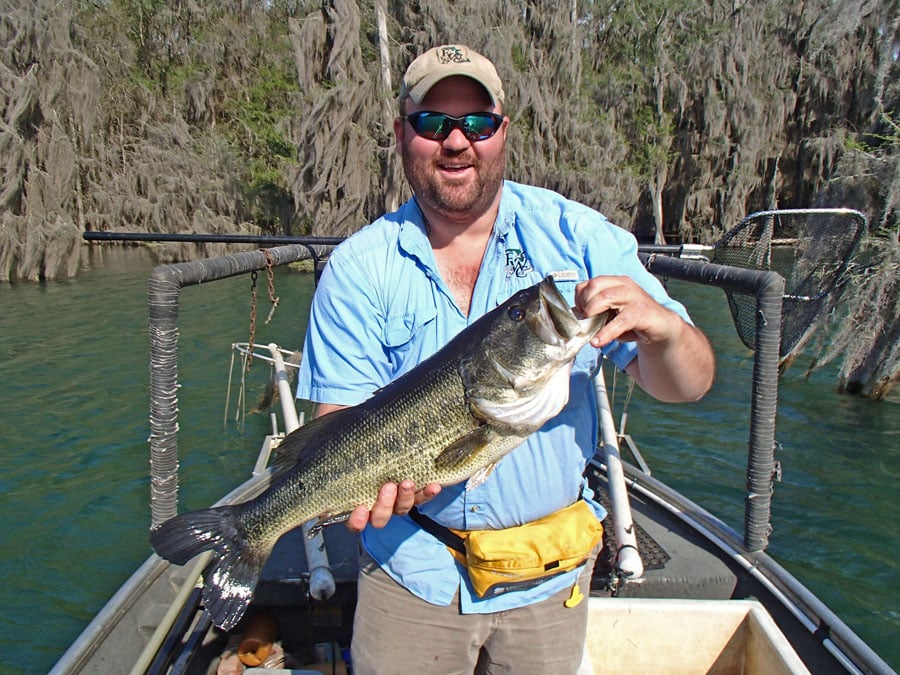 Anglers, time for a break from science. I know, I know—I'm disappointed too. Fear not! This is some good stuff nonetheless. This blog and many of the other social media outlets give us the chance to provide you all with brief updates about fisheries straight from the mouths of our field biologists. FWC has its eyes and ears covering the state in both fresh and salt water, and we can now bring information to you faster than ever.
Spring time is electrofishing season (I posted that blog last time… go read it after you read this). Our field biologists spend a lot of time on many of Florida's water bodies, and they know which lakes are currently looking good. A small lake in the northwestern part of the state has caught the attention of several biologists as having a quality largemouth fishery that is likely going unnoticed. Merritt's Mill Pond located near Marianna is the lake, and it was recently highlighted in a FWC article as a small-water gem (http://bit.ly/175C3Kf).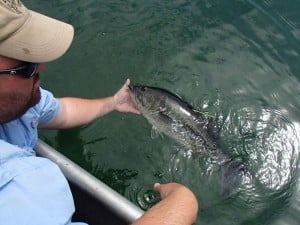 A FWC biologist releases a tagged trophy largemouth bass back into Merritt's Mill Pond. The yellow "spaghetti tag" is visible on the fish's back. Come catch him if you can!
In recent years, our annual fish sampling has shown more and more solid-sized bass in this lake, suggesting it could be a bit of a "sleeper." This past March, as part of a state-wide research project measuring angler catch and harvest rates for trophy- sized (≥8 lbs) largemouth bass, FWC biologists hoped to capitalize on the up-trending population at Merritt's Mill Pond and tag these trophy-sized bass. They succeeded. Overall, the bass population was healthy, with plenty of bass in the 3-6 lb range with the trophy-sized bass icing on the cake. We expect to see more trophy-sized bass to be produced from this lake in the future, as there were quite a few bass that missed the 8 lb minimum for tagging by just a few ounces. The big bass are there. If you are a bass angler in the Panhandle, head out to Merritt's Mill Pond! It should be worth a trip or two. Good luck folks. Your regularly scheduled science will continue next time.
For more photos check out Flickr http://bit.ly/ZBBEh5 and remember to like us on Facebook at www.facebook.com/FWCResearch.
Read more: http://www.floridasportsman.com/2013/05/02/merritts-mill-pond-a-sleeper-hit/#ixzz2SFCkr9Y2