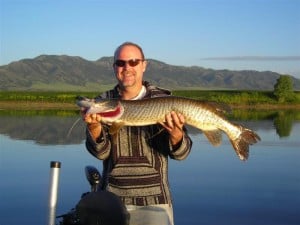 Hi Brett,
Fred Krause here. You took me out on the 'Glades bass fishing a few weeks ago. I just wanted to thank you again for a great time! We didn't catch anything big, but not for lack of trying. I'm sure they're on fire by now.
Attached are a few pics of the fishing around here. The very cold looking pic is of a brown trout out of Jordanelle, while the first musky pic is a 37″er that blew up on Spro frog, and the second musky pic is that 39″ incher that I nailed on a buzz bait in September last year. My offer still stands…. if you want to fish some tiger muskies, I'll be glad to take you out. I'll trade you for a future peacock trip ;0)
Take care and thanks again! Fred.
Fred, had a great time with you guys, may have to take you up on those musky!
Till next time tight lines and good fishing….
From Staff Writer Capt Brett Isackson (bretti@bassonline.com)
BassOnline.com / 888-829-BASS
BASSonline.com is Florida largest freshwater Guide Service, specializing in Florida bass fishing on lakes, canals and rivers.
To learn more about Florida bass fishing, visit Bass Fishing Blogs. Also visit or sister website Florida Bass Fishing, Lake Okeechobee Fishing, Bass Fishing Florida, Florida Peacock Bass