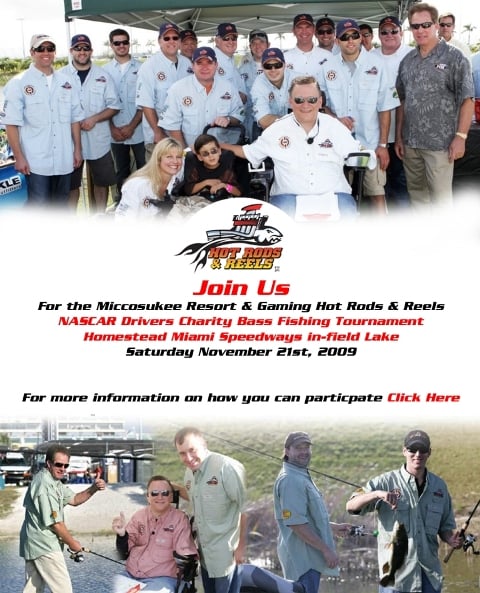 Hot Rods and Reels Homestead Fishing Tournament
I hope you'll join me in November for sport's most uniquely personal experience, the Darrell Gwynn Foundation Hot Rods & Reels Charity Fishing Tournament during one of NASCAR's most prestigious events – Ford Championship Weekend at Homestead-Miami Speedway. You'll have a rare opportunity to fish the speedway's lake with a NASCAR driver, celebrity or team owner in a virtually one-on-one environment. Recent tournaments featured Tony Stewart, Carl Edwards, Kyle Busch, Martin Truex, Ryan Newman, Daryl Waltrip, Richard Childress, Bobby Allison and many others. Each boat is limited to a fishing guide, NASCAR celebrity and two participants – you can't get much closer or more personal than that!
For a $5,000 donation, you receive two seats in a boat, rod & reel combos, tackle and gift packs, get to mingle with NASCAR stars…AND have a chance to win the Miccosukee Million (as in $1,000,000!) if you catch the largest fish. All proceeds from my event, and its companion Hot Rods & Reels tournament at the Daytona 500 in February, benefit the Darrell Gwynn Foundation and Speediatrics Units at area hospitals. It's a great experience for NASCAR fans, avid fishermen (and women) and corporate clients. I invite you to join me this year – click on the link below to learn how you can climb aboard the Hot Rods & Reels adventure.
~Darrell