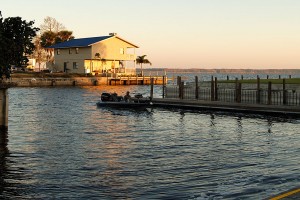 A new boat ramp just reopened to the public on Lake Hatchineha. From the looks of things they're still doing some renovations but it's always nice to have another ramp. There's plenty of parking and you don't have to drive down a dirt road meaning you don't have to clean off all the dirt on your boat when you get home.
I had to check it out today and fished Hatchineha. Much to my surprise, I didn't catch a single fish out of the reeds. Instead, I caught about a dozen fish doing everything under the sun. The fish were definitely biting, but nothing over 2.5 pounds. I caught my first and biggest fish about 30 minutes into the day flippin in Kissimmee grass with a junebug silver Gitem Sugar. I've been flippin a lot lately so I broke out a green pumpkin chatterbait with a swim senko trailer and caught a bunch swimming it next to pads. I then checked out the inside of the weed line and caught 3 fish on a frog.
All in all, I like having the new ramp and will keep it in the rotation. It's free and open all day every day. What more could you ask for?
View Larger Map
---
Till next time tight lines and good fishing….
From Staff Writer Capt Todd Kersey (todd@bassonline.com) – BassOnline.com / 888-829-BASS