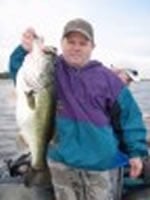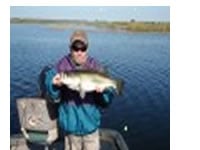 Captain John Leech is one of a kind and made the trip even that much more special. Captain John did an exceptional job.
A 9.5 lb bass 27 minutes into the trip began what would be some of the best bass fishing we have ever experienced. Captain John had us on fish almost immediately and his knowledge of the Cental Florida area lakes made for a great 3 days of fishing. Your entire staff, from the very first phone call we made is first rate. I have hunted with many outfitters in the past, some good some not so good. This was my first experience booking a bass fishing trip and from the first time we called, and the many additional calls with questions before the trip and ending with an increditable 3 days of fishing with Captain John. I was extremely impressed with everyone and I wanted you to know how wonderful an experience it turned out to be for all of us.
We have a bunch of pictures we will be sending in the near future that have many big bass and smiling faces. If at all possible it would be great to see a few show up on the wesite, but I understand you probably get a ton so if not we undertstand. I'm not sure if you have a mailing or customer e-mail list that you send out, but if so please add me to the list. If not that is ok too, we will be conatcing you in the future to book another wonderful Feburary Bass fishing vacation.
Thanks again, Frank Frederick, Joe Sacrapanti, and "The Coach" John Sacrapanti, extremely satisfied customers you will see again.
BOL Responce: Just want to thank each and everyone for their letters. We work hard to provide a fishing vacation to meet our customers expectations!
Till next time tight lines and good fishing….
From Bass Online Staff Writer
BassOnline.com / 888-829-BASS
BassOnline.com is Florida Fishing largest Freshwater Guide Service, specializing in Florida bass fishing in the Florida lakes, canals and rivers.
To learn more about
Florida bass fishing
, visit
Bass Fishing Blog