Bloomfields Health & Fitness Magazine The Everglades: More than just a fishing experience written by Paul Udouj
The sun had just starting sipping on its morning coffee as our boat slowly cut its way through the vast ocean of high grass. Our top of the line Skeeter bass boat made is way along a stream cut in The Glades by ever-moving tides. It seemed more like a Disney ride with water lilies on all sides as our boat cruised down the only path available braced by walls of ten foot high wild grass.
The stream would open into a mile long channel and our guide Captain Brett Isackson announced in his jovial southern tone that it was "fishin time!" The engine would end its purring and the wind at our back would propel us slowly down the stream. We quipped ourselves with heavy casting rods using a braided twine that was near impossible to break. It's not always the large fish who try to break your line but you will find that a simple miscast of the rod and you land your hook in the weeds of the Glades…and they are their own trouble.
For bait we chose a "Wacky Rig Worm" set up (made my JDC Baits in Georgia) which was cast to the edge of the reeds, let sink, and then slowly worked backwards toward the boat. The other was a small fake snake that was a shallow water rig which was tugged often from the reeds to the open water. Yes, big bass love snakes and it would not take but a few minutes for that to become fact. The hook whipped and set….the fight…the landing. Now the biggest bass I had ever seen was sitting in our boat. The guide barely had time to get the fish into the live well before the other member of our party was reeling in fish after fish. He had five big bass in a row on the worm. Excitement was thick in the air and it was not ten minutes into the trip and we already felt like fishing champions.
The boat continued to drift and segments of the water foliage would often float along with us. We were fishing in a moving garden. Much to my surprise there were no bugs…not one. There were however alligators. The first one followed us for a good half a mile. No need to bring swim trunks on your trip. Also on occasion we would snap up an alligator gar or a channel catfish which looks like a cross between a piranha and a mud cat.
The fishing never stopped all day. We would speed to the top of a straight way and fish the length. If you got tired you'd move to the back and smoke a cigar or enjoy a beer. There were too many fish to catch for someone not fishing. We let our guide Captain Brett fish too and we cheered him on several catches as we ate our lunch of Summer Sausage and crackers washed down with sweet lemonade and cold Coors.
The sun would reach its peak for what we call "Part Two" of the day. The morning had felt like a full fishing trip. The sun was now in full shine and extra sun screen applied. If you don't have sunscreen on….you will burn. My fishing buddy found this out the hard way. While being barefoot in the morning is nice, the afternoon sun will heat up any boat deck like a grill. So bring good sandals and don't forget to use sunscreen on your feet. The beers became fewer and the water and lemonade count went up. A nice breeze kept the heat from being evil. The bass keep striking. Our backs were starting to feel the pain of so many catches. So we broke out the Iphone and hooked them into a portable speaker. A freeway runs through the Glades and we got good cell reception most of the time. So we kicked in Pandora Radio and let some rock music bring us our second wind.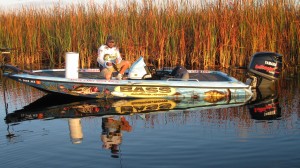 Captain Brett Isackson was a great guide and a fun host. We had some friends in a second boat with their own talented guide Captain Mark Rogers and our fish total together was around 176 fish for two days of fishing. While that may sounds like bragging I made Brett carry a baseball hand counter the second day to prove our numbers were not myths but bass reality. The best part is that it's not even the peak of the bass season which runs November through March.
If you ever want to feel a real Everglades bass experience I highly recommend www.bassonline.com and Captain Brett or Captain Mark. They made the trip a memory I won't soon forget. I know I'll be back…so leave some fish for me!
By: Paul Udouj – Staff Writer
********************************************
Thanks Paul,
Great article, we really appreciate you writing about your experience bass fishing in Florida Everglades. Capt Mark & Brett said you guys were good fisherman & allot of fun.
We are looking forward to fishing with soon.
Till next time tight lines and good fishing…. From Staff Writer BASSonline – fishing@bassonline.com BassOnline.com / 888-829-BASS