Quality Fishing, Great Rates
Fast and Secure Online Booking
Florida's Largest Outfitter
7 Day Customer Support
Higher Catch Opportunities
Lessons from the Charter
Create Special Memories
Peace on the Boat
DAYTONA OFFSHORE FISHING
We offer a variety of offshore deep sea guided fishing trips off the coast of Daytona Beach. Each trip offers its own variety of some hard fighting fish, that are prized not only for their ability to put up a great fight, but also for their food value.
First we offer a near shore guided fishing trip just off the beaches of Daytona. Geared towards the more adventurous fisherman in search of larger game fish, this trip is a bit less laid-back than our inshore trip, and the size of fish being targeted is much larger. You'll spend the day cruising just a few miles off the shoreline in search of hard fighting cobia, kingfish, and tarpon, with the occasional shark and a variety of other species also being a possibility. The thrill of the hunt, and the challenge of taking on some incredibly hard-fighting game fish make this a very affordable trip for those looking for some big fish action.
For those looking for a big time fishing adventure on the high seas, Our Orlando Fishing Charters offer offshore guided fishing trips in the deep waters of the Atlantic. You'll fish 15 or more miles off the coast of Daytona Beach, in search of some of the most prized game fish the ocean has to offer. You'll spend the day trolling in pursuit of dolphin (mahi-mahi), wahoo, and tuna. If you would prefer, you can fish deep wrecks, or drift drop-offs and deep ledges in search of grouper, cobia, snapper, and a variety of other species.
These are some of our Daytona Offshore Fishing charters going out of the Daytona Beach area which are an extremely popular activity for locals and for visitors. We offer many types of fishing charters in Daytona Beach, from inshore to deep sea fishing where you'll be hunting big game fish in the rich waters of the Atlantic Ocean. We arrange Daytona Beach fishing charters on a variety of different types of boats for as little as half day, on up to multi-day fishing expeditions. With our expert local knowledge, we'll help you find the best fishing boat in Daytona Beach at the best price possible.
Our type of sportfish boats are the quintessential fishing machines. They are designed for speed and seaworthiness in a variety of conditions. The traditional sportfish design consists of a long bow, followed by the cabin, and behind it a large fishing area. Over the cabin is the "flybridge" where the captain steers from. Some sportfish have a tower above the flybridge, which is useful for spotting certain types of fish.

Captain Roland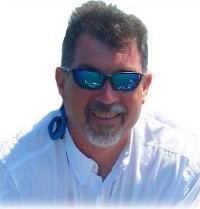 Captain Roland has been passionate for the outdoors since early childhood. Growing up on Merritt Island, Florida,Captain Roland was home-schooled through high school. The great part of the home-schooling experience was the time it afforded me to fish – almost on a daily basis- which was perfect! His house was on the Indian River. As he grew older, he upgraded his small john boats for flats boats; and increased the range of his fishing territory. Fueled by his love of fishing; and desire to learn and study the patterns of salt water game fish.
Captain Roland is truly a great fisherman, his love for the sport shines brightly into the efforts he puts into his guided trips. If you want a knowledgeable guide, who will put you on the fish- Captain Roland is your man!
Captain Brad
Central Florida has been my home for over 28 years. Brad graduated in Daytona Beach and then off to Seminole College for 2 years. He has been fishing Florida waters for over 25 years, saltwater, inshore, offshore and freshwater for the variety of game fish there's no better place to be. He started taking my son fishing, little did I know that would change his whole life and outlook, seeing him catch fish and the excitement he experienced led me to wanting to make other people feel that same pleasure of catching big game fish, it's a really good feeling sharing the knowledge he has and teaching people how to catch fish.
Brad enjoyed the experience so much that he became a licensed Charter boat Captain "USCG Merchant Marine" to share with others his techniques and skills for catching trophy fish. My fishing photos speak for themselves, all my knowledge is compiled on years of calendars, making my best days on the water. Noting the tides, water clarity and temps as well as moon phases and barometric pressure. Let my expertise be put to work for your next fishing adventure.

Barracuda

The barracuda is one of the most under appreciated game fish in Florida. They are big (up to 5 feet and 65 pounds), with their explosive strikes is a thrill one won't forget. They run and they jump and dive- you're in for a treat with one of these on the line! They can be found just about anywhere in Florida's saltwater- plentiful in water depths of 3 to 5 feet. They can be caught on a fly or a tube lure on a spinning rig.
Grouper

There are many varieties of grouper in Florida- and most are tasty and delicious! Grouper are a bottom species that like live bait offerings and can put up a tremendous fight. In hooking and catching grouper it is primarily important in the first moments of battle to get the fish out of the vicinity of his home- be it a Wreck, Reef or other structure, if you do not- they will cut you off for sure! Certain species of grouper, the Goliath or Jew fish (these species must be caught and released), can grow to over six hundred pounds!
Snapper

Snapper are one of Florida's most sought after and tasty bottom species. There are a number of snapper varieties and all are good to eat. It takes special tackle and technique to catch these wary fish- they are very sensitive to terminal tackle and presentation of bait. Fluorocarbon leaders are important part of your presentation. Snapper like shrimp, crab and other small crustaceans. Snapper like bottom cover like reefs, wrecks and other structure and can be found in all Florida saltwater bodies.
| | |
| --- | --- |
| | Dolphin, Mahi Mahi, Dorado. Whatever the name, the dolphin is a mainstay of offshore game species. They have a tremendous growth rate and make excellent table fare. Dolphin are primarily fished by the trolling method with artificial baits. Dolphin like pink and red and blue and white trolling skirts over fresh ballyhoo. Dolphin are a pelagic striking fish, meaning- if you get into a school you may be able to make your days catch in one sitting! |
| | |
| --- | --- |
| | The Marlin is perhaps the best known of the offshore fighting billfish next to the sailfish, the difference is you can catch marlin over several hundreds of pounds- the largest are over a thousand pounds. There are several species of marlin, the black, the white, the blue and the stripped. These are heavy duty warriors that take special gear and large artificial or natural baits. A Marlin catch is a lifetime accomplishment and to be envied by every angler. Marlin are found in nearly every ocean worldwide. Marlin fishing is strictly a catch and release proposition! |
| | |
| --- | --- |
| | Cobia are a very tasty fish! They are migratory and can be found swimming near and around the friendly giant Manta Ray. Cobia will respond to lures thrown tipped with ballyhoo and are primarily sight fished from the tower of an ocean going boat. Cobia can become very large and can really put up a bulldog fight! |
| | |
| --- | --- |
| | The Sailfish is a species beloved by the fisherman and Captain alike. These fish are acrobatic and present themselves at trolled bait with bill noodling in the air behind the bait, then striking with a slash and run! This is strictly a catch and release fishery. Sails are caught by kite, light spinning tackle, on fly and stand up rod and real. Truly a great game fish and most anglers' first time bill fish. They will eat any trolled ballyhoo with or without a skirt. |
| | |
| --- | --- |
| | The don't call it a Wahoo for nothing! When this top predator takes your bait, you will know it! The first run is a reel screamer! Wahoo are delicious on the plate and amazing underwater athletes, they seldom jump like other species but they can burn the line off of a reel and put the fear of God in any angler! Wahoo like dark lures trolled at high speed- eight to twelve knots. They are a toothy fish, so care needs to taken when brought on board. Wahoo can weigh up to one hundred pounds! |
| | |
| --- | --- |
| | The kingfish is the poor man's Wahoo; they have saved the day on many a charter. Kingfish are an aggressive pelagic species and love trolled bait or a pinfish drifted along the beach rigged with a circle hook and a trailing stinger treble. These fish can weight up to 70 pounds, and usually run in schools of twenty to thirty pound fish. Streaked, seasoned with Italian dressing and then grilled these fish can be tasty fare. |
| | |
| --- | --- |
| | Night time sword fishing has become one of the most popular offshore fishing adventures South Florida has to offer. These are mysterious looking bill fish that live in the deep waters of both the Atlantic and Gulf waters. They can grow to enormous size! Swords love squid and are fished with a luminescence chemical light attached near the bait and at great water depths. |
We're happy to answer any questions you may have before booking, during, or after your charter. We've compiled a list of our frequently asked questions, but if doesn't answer what you're looking for, feel free to contact us.
Air Conditioning
Most boats in our fleet are air conditioned and have generators that allow the A/C to operate even when the boat leaves the dock
See the boat info section of our boat profiles for information specific to the boat you are considering
Alcohol
You are welcome to bring alcohol on board any of our charters, but please avoid bringing glass on board as it poses a safety hazzard
Excessive consumption of alcohol can amplify the inherent risks associated with fishing and can also contribute to seasickness.
The Captain's top priority is the safety of all crew and guests and therefore reserves the right to return to shore if he is concerned about the safety of any crew member or passenger.
Bait (Live Bait)
Standard bait is included unless otherwise specified
Live bait is typically not included in the price and the cost is the responsibility of the charterer.
Live bait is used for targeting certain species of fish during certain seasons. Your Captain will explain this in detail.
The price for live bait normally varies between $50 and $100.
Bathroom
Most of our boats have a bathroom ("head") on board
Please see our boat profiles for specific information
Cancellations & Refunds
Our cancellation window for each boat is listed on the first page of the booking process
If not otherwise specified, our cancellation window is 72 hours or more prior to the charter for standard trips and 14 days or more for over six and yacht trips.
Customers who cancel within the cancellation window will receive a full refund of any amounts paid.
Customers who cancel after the cancellation window expires are responsible for the full amount of the charter, any catering or add ons that have been purchased, plus a 20% gratuity.
Catering
We can arrange custom catering on most trips ranging from drinks and snacks to collaborate platters
We can even arrange to have a chef prepare meals on most of our boats
Please contact us for a catering quote.
Children
Children are permitted on our charters and there is no minimum age
For younger children we recommend choosing a boat with an air conditioned cabin and bathroom
All children must be supervised by a parent or legal guardian at all times and parents should be aware of the inherent risks associated with fishing
Please let your captain know ahead of time if there will be small children on board so he can make sure we have the proper size life jackets.
Credit Cards
We accept Visa, MasterCard, Discover, and American Express
We charge no credit card fees on money we collect online, but some boats charge a 3-5% processing fee when you pay the balance the day of.
Most crew prefer cash if possible.
Deposits
The deposit is refundable in accordance with the boats cancellation policy, which you can find on the booking page. If not otherwise specified, our normal refund policy is 72 hours prior to the charter.
Fish Caught
Any fish that are caught on your charter and are legal to take belong to you
At the end of the charter our crew will clean and filet your catch and package it in sealed bags so you can take it home or to a restaurant
In most locations, we can arrange to have your catch professionally packaged, frozen, and shipped to you. Please speak directly with your captain for information on shipping fish.
We typically release all species that are inedible (sailfish, sharks, etc.) unless you request otherwise. If you would like to "mount your catch" as a trophy our crew has been profesionally trained to measure and photograph the fish so a taxidermist can create an exact replica. This allows the fish to survive and contributes to sustainable fisheries and environmental conservation.
Food & Beverage
Most of our charters provide a cooler with ice for you to store any food or beverage you bring on board
Some of our trips include catering, this will be specified in the booking process
Please contact us if you would like to arrange catering.
Gratuity
A 15-20% gratuity for your crew is customary and not included in the price
You should present the gratuity to the captain or the mate at the end of the charter. On most boats, the crew has an arrangement to split the tips received no matter who it's handed to.
We collect a 20% gratuity in advance for all yacht charters and this makes up the majority of compensation for the crew. You are welcome to reward outstanding service with an additional tip, but this is not expected or required.
Fishing Licenses
Every one of our boats has a blanket charter license that applies to all guests and crew
You do not need to purchase a fishing license separately
Location
We will provide the exact address of the boat with your confirmation or upon request
All our deep sea boats are located as close to the ocean AND/OR inlets to maximize fishing time.
Our boats are usually within a 30 minute drive of the city they are listed on; however, sometimes they are not in the same city.
Maximum Passengers
Due to US Coast Guard regulations most charter boats are limited to a maximum of six passengers. Many of our boats are large enough to accommodate many more, but Federal regulations limit us to six.
In some locations we offer an "Over 6" option on boats that have a special permit from the Coast Guard to take additional passengers. These boats have similar amenities to our other sport fishing boats.
Some of our yacht charters can take over six passengers by using a special charter contract that allows them to accommodate extra passengers while still complying with the law. Please contact us for more information.
Children of any age count towards the limit.
Crew members do not count towards the limit.
Price
Unless otherwise stated, our prices are for chartering the whole boat and there is no additional charge per person
Some exceptions exist such as with our boats that take over six passengers. On these boats there may be a charge for each passenger over 6.
Seasickness
Seasickness is another term for motion sickness and typically manifests itself in the form of fatigue, nausea, and vomitting. In severe cases seasickness can lead to unconciousness and requires profesional medical treatment.
If you have suffered from seasickness in the past, we recommend preparing for your trip starting the day before by hydrating, getting plenty of sleep, and avoiding alcohol consumption. There are several over the counter remedies and a host of prescription remedies that must be obtained through a doctor.
If you are concerned about seasickness please speak with your captain prior to the charter for advice.
Most charters, unless otherwise specified, are private which means you are free to return to the dock at any time if you are uncomfortable.
We can not guarantee that you will not get seasick, nor do we provide refunds for charters that are ended early at the request of the charterer.