Quality Fishing, Great Rates
Fast and Secure Online Booking
Florida's Largest Outfitter
7 Day Customer Support
Higher Catch Opportunities
Lessons from the Charter
Create Special Memories
Peace on the Boat
AREAS FOR NAPLES BASS FISHING
FLORIDA EVERGLADES
Visit the Florida Everglades and witness nature's wonders all around you while fishing. The river of grass will amaze you as we drive our late model bass boats to the fishing destination. It's a thrill plus very educational. Stay confident, Florida Everglades fishing is not just another airboat tour. It's an experience that you get to explore the Florida Everglades and catch bass all in one!
Home to hundreds of Everglades creatures and watery wildflowers. Everglades is the perfect place for both entertainment and learning. Explore a forest of unspoiled wonders at the Everglades and see for yourself what makes the wetlands so wildly wonderful. The Everglades is an attraction in Naples not to be missed, the hidden secrets of nature's own will develop your curiosity as you explore Everglades. Come out, explore Naples bass fishing and let's go fishin!
LAKE TRAFFORD
Lake Trafford and the Corkscrew Swamp, Headwaters of the Historic Everglades on the West Coast of Florida just minutes from Naples, FL. View its creatures in their natural habitat while experiencing the thrill of an fishing or even Lake Trafford an airboat ride. Birds and Alligators flourish in the abundance of vegetation making it a birders heaven and a photographer's paradise, but for anglers it's both!
Lake Trafford is approximately 1500 acres of natural beauty. Located in northeast Collier County. Home to native birds, alligators and other swamp creatures. Trafford is regarded as a premiere fishing lake for most anglers, with it's Crappie, Bass, Bluegill and Shellcracker that all call the lake home…. Come try it for yourself and spend some time in one of the most beautiful areas of Southwest Florida! Read more on Lake Trafford here!
PRIVATE ROCK PITS
Fishing on Private Pits of Naples are real treat, there are several lakes in all and are exclusive to you….you will not see another boat! Get to enjoy one of Florida's most precious natural resources, its filled with big trophy bass. Largemouth bass as well as crappie and big bluegill.
When planning a vacation to Naples consider taking a guided bass fishing trip with Florida's largest and most respected fishing guide service. Our guides are full-time bass fishing guides and professional tournament anglers that know how to provide the perfect fishing experience for our customers. Catching trophy bass on these private pits will create a memory you will not soon forget!
NAPLES PEACOCK BASS
Naples bass fishing won't be complete without the Golden Gate Canal is centrally located between the pristine beaches of Naples/Marco Island, and the Everglades National Park, Big Cypress Preserve, and the Collier-Seminole State Park. If you want to explore southwest Florida fishing, Golden Gate Canal System then Golden Gate canal system is where you can stay close and save time and money.
There are many other lakes in the region but, they are all man-made rock pits or water retention areas for the numerous housing and golf course developments none similar to the Golden Gate canal system. Most of them are stocked and offer some excellent bass, catfish and panfish fishing. But, many are located on private property, fishing is usually restricted to residents and their guests. If in doubt, assume the lake is private and ask for permission before wetting your line, but these restriction are why we service the area with professional guide service with boats and access.
LAKE OKEECHOBEE
Lake Okeechobee is the most "famous big bass lake" in Florida, well-known for the quantity and quality of bass the lake produces. This reputation on Lake Okeechobee has continued for many years as producing the biggest and best large-mouth bass fishing in Central Florida. On Okeechobee the two primary ways to fish are with artificial lures or wild shiners. Bass fishing on the "Big O" with wild shiners is the preferred bait for many anglers for trophy bass. It just happens that it's the natural food that they feed on daily. Wild Shiner fishing became very popular many years ago when anglers fishing Okeechobee for largemouth bass would see their feeding habits. It has become the increasingly popular choice because once you've experienced this style of fishing you'll quickly recognized that its much more than just sitting and watching. Read more on Lake Okeechobee!
NAPLES BASS FISHING BOATS
Most all of our 'Bass' style boat are single and dual console, Powered by 200, 225 and 250 hp outboard engines – 19′, 20′, 21′ & 22′ in length, fast and comfortable dry ride, Trolling Motor, Anchored by Power-Pole Anchoring System. This boat will provide you with comfort, stable ride, and the ability to fish the lakes and flats!
NAPLES BASS FISHING GUIDES
Captain Mark
Captain Mark Rogers is a full-time Naples fishing guide professional.
Experience includes BASS Master Elite Tour, FLW Tours, Everstart, BFL tournaments and many others.
Mark has a list of accomplishments in the fishing industry a mile long. Mark originally from California moved to Florida, sharpen his northern skills years ago to master guiding on world famous Lake Okeechobee and the Florida Everglades.
Captain Mark's has one of the biggest boats in our fleet, so trips with 3 to 6 people are no problem. His home base is in Naples, Florida and knows the area well. So come fish with Captain Mark a true professional in every sense of the word.
Captain Brett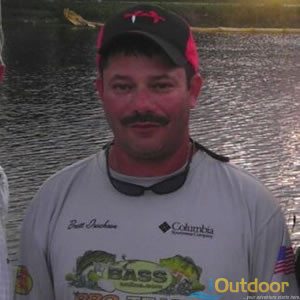 Captain Brett was born and raised in Davie, Florida. Brett caught his first fish at the age of eight on a fishing trip with his father, he was hooked and has been bass fishing ever since. he also enjoys fishing light tackle and fly fishing for bass, peacock bass, snakehead and what ever else in Miami for the past 30 years! Brett moved to Davie, FL at the age of two and realized his love for South Florida fishing – its beauty and its incredible fishing opportunities in the outdoors.
He decided to become a Miami Fishing Guide to share his experience and fishing knowledge of South Florida areas with new friends; whether a beginner, intermediate or a professional. Brett specializes in everything, livebait, fly fishing and light tackle. Brett's goal is to share as much fishing and local knowledge as possible on your trip while providing major entertainment. Brett has a huge repeat business, a testament to his understanding to Customer Service!

Largemouth Bass

Largemouth bass grow 4 to 8 inches (10 to 15 cm) during their first year, 8 to 14 inches (20 to 30 cm) in two years, 18 inches (40 cm) in three years. They are usually green with dark blotches that form a horizontal stripe along the middle of the fish on either side. The underside ranges in color from light green to almost white. They have a nearly divided dorsal fin with the anterior portion containing nine spines and the posterior portion containing 12 to 13 soft rays. Their upper jaw reaches far beyond the rear margin of the eye.
Peacock Bass

All about the Florida Peacock Bass The butterfly peacock (also called peacock bass) is an extremely popular freshwater game fish introduced to south Florida in 1984. It is readily caught by bank and boat anglers using a wide variety of tackle and bait that ranges from live shiners to artificial lures and flies. Butterfly peacock prefer live fish and fish imitation baits often used by largemouth bass anglers, but they rarely hit plastic worms commonly used to catch largemouth bass.
Bowfin

The bowfin is the only living representative of an ancient family of fishes. It has an air-bladder that functions like a lung, and can be seen gulping air. They have a long, stout body; big mouth with small, sharp teeth; long dorsal and rounded tail fin. Males have a dark spot with a bright orange halo on the tail fin. The spot is absent or inconspicuous on females.
Florida Gar

Prehistoric fish with ganoid (bony) scales that have peg-and-socket joints forming a hard armor. Irregular round, spots occur on top of the head, all over the body and fins.
use an airbladder to breathe air in low-oxygen water. Spawning occurs in late winter and early spring when both sexes congregate in shallow weedy waters where the females discharge adhesive eggs. Newly hatched young possess an adhesive organ on the end of their snout and stay attached to vegetation until 3/4-inch long. Adults primarily feed on fish, shrimp and crayfish.
Bluegill

Bluegill have the deep-bodied look of "bream," with a long dorsal fin and slightly forked tail. A dark ear covering and a blotch at the dorsal fin's back bottom edge set them apart. Bluegill are common throughout Florida but are best known in lakes and ponds.
Black Crappie

A deep body with nearly symmetrical dorsal and anal fins and a speckled pattern on the body and fins identify the black crappie. Unlike most other panfish, crappie spend much of their time offshore feeding on small fish in lakes or in large slow-moving clear water rivers. They nest in colonies from February to April. Nests are fanned by males over gravel or muddy bottoms in depths of 3-8 feet, with big fish deeper. Primary food items are crustaceans, aquatic insects and small fishes.
We're happy to answer any questions you may have before booking, during, or after your charter. We've compiled a list of our frequently asked questions, but if doesn't answer what you're looking for, feel free to contact us.
Air Conditioning
Most all inshore style boats are open, they have no cover or air condition
Alcohol
You are welcome to bring alcohol on board any of our charters, but please avoid bringing glass on board as it poses a safety hazard.
Livebait
Standard bait is not included unless otherwise specified
Live bait is typically not included in the price and the cost is the responsibility of the charterer.
Bathroom
Most all bass boats do NOT have a bathroom ("head") on board (but are generally close to restrooms while fishing)
Cancellations & Refunds
If not otherwise specified, our cancellation window is 72 hours or more prior to the charter for standard trips and 14 days or more for over six and yacht trips.
Customers who cancel within the cancellation window will receive a full refund of any amounts paid.
Customers who cancel after the cancellation window expires are responsible for the full amount of the charter, any catering or add ons that have been purchased, plus a 20% gratuity.
Catering
We can arrange custom catering on most all trips, ranging from drinks and snacks. Most of the locations also have access to resorts on the water for lunch.
Please contact us for a catering quote.
Children
Children are very much welcome and permitted on all charters and there is no minimum age.
Fish Caught
Any fish that are caught on your charters and are legal to take belong to you, Florida State law regulates what you can and cannot keep.
Food & Beverage
All of our charters provide a cooler with ice for you to store any food or beverage you bring. We also provide bottled water.
Gratuity
A 15-20% gratuity for your Captain is customary and not included in the price.
Fishing Licenses
Everyone on freshwater charters ONLY are required by state law to purchase a temporary fishing licence. $17.00 for 3 days!
Location
We will provide the exact address of the lake/boat with your confirmation or upon request, locations are subject to change depending on weather.
Maximum Passengers
Due to US Coast Guard regulations most freshwater charter boats are limited to a maximum of four passengers. Many of our boats will only accommodate two or three, this is why its important to let us know at the time of booking so we can get you the biggest boat available.
Price
Unless otherwise stated or discussed, you are chartering the whole boat and there is no additional parties.
Seasickness
Seasickness is another term for motion sickness and typically manifests itself in the form of fatigue, nausea, and vomiting. In the freshwater charter there is no need to be worry about seasickness as the water is calm.