FWC Press Release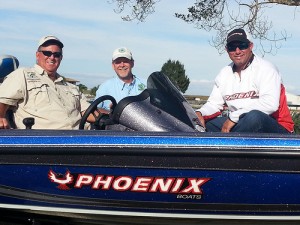 Five lucky anglers who signed up at TrophyCatchFlorida.com started celebrating the holidays early when their own special Santa delivered big, with a boat and motor, or fishing trip and gift cards.
TrophyCatch is a special reward-driven angler recognition program that encourages Florida anglers to take extra care to document and live-release largemouth bass heavier than 8 pounds. The program is conducted by the Florida Fish and Wildlife Conservation Commission (FWC) and supported by corporate partners, who provide the incentives.
By simply registering, more than 4,000 anglers became eligible the first year in a drawing for a Phoenix 619 Pro bass boat powered by a Mercury 200SX outboard. In October, a random drawing was conducted to select five finalists for the boat and special consolation prizes. The finalists were announced by Teresa Johnson, Phoenix's chief operating officer, along with Tom Champeau, director of the FWC's Division of Freshwater Fisheries Management and KP Clements, TrophyCatch coordinator (see video at YouTube.Com/TrophyCatchFlorida).
Frank Ay, the grand-prize winner, originally learned about TrophyCatch through an email sent out by FWC (Note: Anglers can sign up for custom emails at MyFWC.com by selecting the red envelope in the top banner). Ay lives in North Lauderdale and works at Sy Katz Produce as an inspector, where his boss sympathizes with Ay's bass fishing addiction. Ay is a member of Big Reel Bassmasters of Margate, which is known for its charity Ghosts & Goblins fishing event. Ay said his biggest largemouth bass was 10 pounds, 2 ounces. He caught it in a small pond in Coconut Creek.
Ay was surprised at a Big Reel Bassmasters club tournament on Lake Okeechobee on Nov. 24 by pro angler Bobby Lane, Champeau, Clements and television celebrity and producer Keith Alan, where he was awarded the $40,000 boat and outboard motor (see video at bit.ly/Phoenix-giveaway).
The four runners-up in the TrophyCatch registration giveaway were Rocco Cantalupo from Clearwater, Mark Frost from Melrose, Jason Haynes from Lady Lake and Andrew Walton from Toronto. The runners-up each won a trip to Bienville Plantation and $100 gift cards ($300 total) from FWC TrophyCatch partners, including Bass Pro Shops, Dick's Sporting Goods and Rapala lures, as well as a Bass King T-shirt.
Every angler in a household should register seperately, because Phoenix and Mercury will be giving another boat and motor to the lucky angler for season two (Oct. 1, 2013-Sep. 30, 2014). Whether registrants catch a fish or not, they are eligible for the drawing. If you are already registered, you do not need to register again. However, this year, for every bass you have verified in TrophyCatch, you'll get 10 additional chances to win the boat. So register, go fishing and document your catches your catches at TrophyCatchFlorida.com
By submitting photos for verification online, anglers also become eligible for a custom certificate and decal, plus awards based on the bass's weight. Lunker Club entrants (8-9.9 pounds) each receive a $50 Bass Pro Shops gift card and Bass King T-shirt. Trophy Club participants (10-12.9 pounds) earn a total of $150 worth of gift cards (Bass Pro Shops, Dick's Sporting Goods and/or Rapala), plus a long-sleeve T-shirt.
To be entered into the Hall of Fame, anglers must catch, carefully document and release a bass weighing more than 13 pounds – but it's worth it. Hall-of-Fame entrants also receive a free $500 fiberglass mount of their fish from New Waves Taxidermy, $200 in gift cards, a duffle bag full of Bass King apparel, a Glen Lau video library and other prizes worth a total of $1,000.
The biggest bass of the year, for the second season will again win a TrophyCatch championship ring, from the American Outdoor Fund.
'Nuff said! Register, grab your license and rod-and-reel, make sure you have a scale and camera and go catch 'em—then release them and say proudly, "My Trophy Swims in Florida."