Contact: Coleen Curran 704.900.7275 or ccurran@solutionmatrixinc.com
CLEWISTON, FL (June 1, 2010) –Iraqi veterans Joshua Rockwell of Scranton, PA and David Calhoun of Wyalusing, PA caught more than 50 bass on their two-day fishing trip to Lake Okeechobee with Bass Master Pro Angler Mark Shepard.
Their trip was sponsored by SMI Cold Therapy of Butler, PA, a manufacturer of cold therapy products and services for post-operative patient care in hospitals and surgery centers, and by Bassonline.com, Florida's largest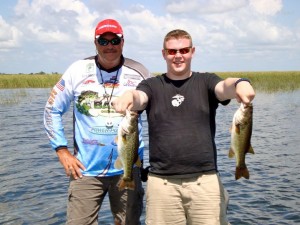 freshwater guide service and outfitter for bass fishing on Florida lakes, canals and rivers. Calhoun and Rockwell are the first of eight wounded vets to make the journey to Florida to experience some of the world's best bass fishing.
Bass Master and FLW Pro Angler Mark Shepard, a Bassonline.com guide, has more than 25 years experience fishing in Florida and 10 years of guiding on Lake Okeechobee.
The mission of the Wounded Warrior Project is to honor and empower wounded warriors. Its purpose is to raise awareness and to enlist the public's aid for the needs of severely injured service members.
Three more fishing trips on Lake Okeechobee are planned. The next trip is June 7-8 with WWP vets Gary Harris of Ft. White, FL and Jake Williams of Vista, CA.
Rockwell, a medically retired machine gunner, joined the U.S. Marine Corps in 2006 and was injured in October 2007. While on patrol with a Humvee team, his left foot was crushed in the line of duty.
Calhoun, 45, a medically retired battalion armor and training manager, joined the Army in 1985, saw five deployments and was injured in July 2003. His Humvee was on the outskirts of Baghdad, when an IED hit and flipped his vehicle. The explosion destroyed Calhoun's kneecaps and trapped the driver, Lt. Jonathan Pruden. Despite his injuries, Calhoun carried Pruden to safety before the vehicle was engulfed in flames.
The Florida Division of Freshwater Fisheries Management will award a 5-year freshwater fishing license along with a promotional package of tackle samples, fishing publications and discount coupons to each of the WWP veterans as part of its recent promotion of Florida, the Fishing Capital of the World. For information, visit http://myfwc.com/license/Freshwater_5-year-license.htm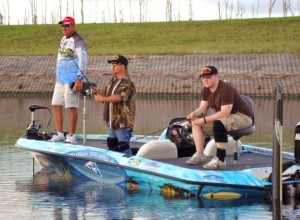 BassOnline.com is Florida's largest freshwater guide service and outfitter, specializing in Florida bass fishing on Florida lakes, canals and rivers. For more information, visit Bass Fishing Blog or Florida Bass Fishing, Lake Okeechobee Fishing, Bass Fishing Florida, Florida Peacock Bass or Everglades Fishing.
SMI is a women-owned, veteran-operated manufacturer of the highest quality cold therapy products for the orthopedic community. Our post-operative products are designed for inpatient and outpatient procedures including total joint replacements and sports medicine. Our simple-to-use, long-lasting, 3.5-hour Gel Bag Compression Bandage Wrap System requires fewer nurse interventions and is changing the orthopedic standard of care. SMI's facility-specific protocols create efficiencies that enhance patient care while achieving improved clinical outcomes and cost reductions. Headquartered in Butler, PA, SMI is proud to be made in America. For more information, visit www.solutionmatrix.com or call 724.431.6147.
Till next time tight lines and good fishing….
From Staff Writer BASSonline – fishing@bassonline.com
BassOnline.com / 888-829-BASS
BassOnline.com is Florida's Largest Freshwater Guide Service and Outfitter, specializing in Florida bass fishing on Florida lakes, canals and rivers.
To learn more about Florida bass fishing, visit Bass Fishing Blog. Also visit or sister website Florida Bass Fishing, Lake Okeechobee Fishing, Bass Fishing Florida, Florida Peacock Bass, Everglades Fishing