Reel Knights Team Defends Their Home Turf To Win FCBS Spring Break Showdown!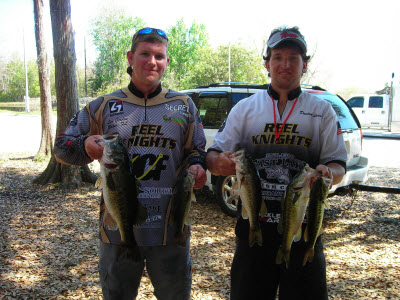 Len and Dustin targeting caught their winning fish on toads, speed worms and small jig
The Florida Collegiate Bass Series held its second tournament of the season hosted by the Reel Knights at the University of Central Florida. The event was held on East Lake Toho out of East Lake Fish Camp in Kissimmee, Florida on March 20. Six teams from four different universities attended the event and everyone had a great time. The schools represented were the University of Florida, Virginia Tech, Florida Gulf Coast University and the host school, the University of Central Florida.
The day started off with the pre-tournament meeting. Teams drew numbers to find out what order they would launch in then reviewed the rules and other tournament details. As the boats took off, each team was met by a beautiful sunrise over a flat glass lake. The anglers enjoyed fishing without the high winds that had been prevalent since the beginning of the year.
Many of the teams fished shallow, looking for fish on beds or pre-spawn fish looking to move up. Almost all the fish were caught in less than 4′ of water. East Lake is known for its clearer water and with the sunny skies and calm wind; visibility was at its peak.
As the boats came back in for weigh-in, all had stories of short fish, tough fishing and the one that got away. It was awesome to see that no team came back with an empty livewell though. Every team brought something to the scales.

Once the weigh-in concluded, the results were as follows:
1st Place: UCF – Len Gordon and Dustin Lauer -5 fish for 10.06lbs (Big Bass: 4.76lbs)
2nd Place: UF – Joey Heath and Matt Chavers – 1 fish for 3.96lbs
3rd Place: UCF – Miles Burghoff – 3 fish for 3.86lbs
4th Place: FGCU – Tommy Edwards and Noah Grimes – 4 fish for 3.77lbs
5th Place: FGCU – Garrett Farmer and Hank Irion – 3 for 3.43lbs
6th Place: VT – Michael Bylund – 1 fish for 0.98lbs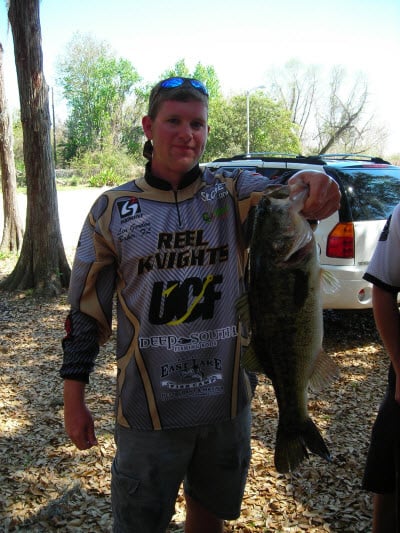 Len Gordons "Big Bass" weighed in at 4.76lbs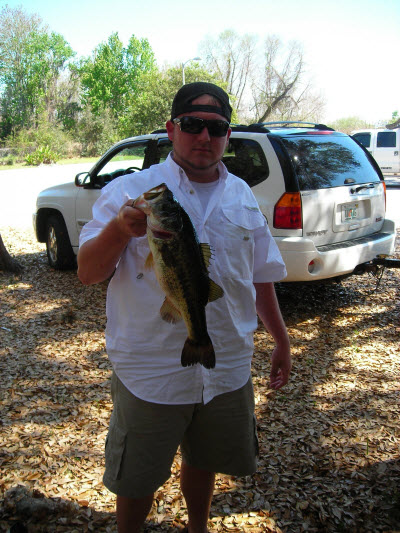 >
Joey Heath caught the only bass weighed in by UF but it was big enough for 2nd place
Overall, the event was a success and everyone who participated had a blast. East Lake Toho is known by the locals to be a very challenging lake. All the competitors should be proud of what they accomplished. The next event is heading north to the big bass factory of Orange Lake. The Gator Invitational should prove to be a much different tournament and the anglers look forward to the potential of catching a single fish that could push double digits with ease.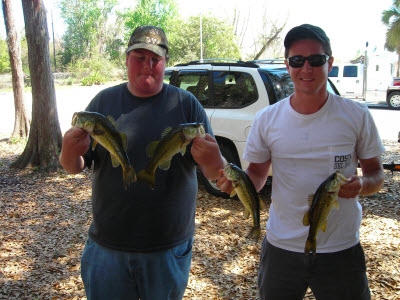 FGCU's Tommy Edwards and Noah Grimes and their 4th place catch.
This event would not have been possible without the help of the following sponsors: East Lake Fish Camp and Florida Bass Networks. Thank you so much for your support.
Till next time tight lines and good fishing….
From Staff Writer BASSonline – fishing@bassonline.com
Florida bass fishing, visit Bass Fishing Blog. Also visit or sister website Florida Bass Fishing, Lake Okeechobee Fishing, Bass Fishing Florida, Florida Peacock Bass