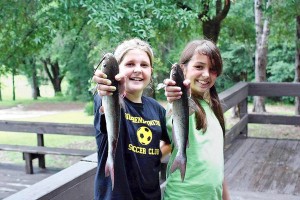 The Wildlife Foundation of Florida (WFF) will host its inaugural "Florida BlueGreen" event at 5 p.m. on Nov. 17 at the Everglades ranch of seventh-generation Floridian and BlueGreen host "Alligator" Ron Bergeron in Weston.
Event proceeds from the Florida cracker-style cowboy gala will benefit the Wildlife Foundation's Florida Youth Conservation Centers Network and several other youth and conservation initiatives in Florida. Programs empower and encourage children to participate in traditional outdoor recreation such as fishing, archery, hunting and bird watching.
Recent Kaiser Institute studies indicate the proportion of children ages 9 to 12 who spend time in activities such as hiking, walking and fishing has declined by 50 percent in the past decade, with entertainment media occupying the majority of spare time. Data suggests that if American youth are provided more opportunities to have a meaningful outdoor experience, they will be more likely to value nature, engage with it and want to do something to maintain it.
As an annual, comprehensive fundraising event, the "BlueGreen" is intended to raise money and awareness, but to also focus people on all sides of the conservation equation in the effort to engage young people for the sake of Florida's future.
Guests will enjoy live entertainment, music, a silent auction, authentic Florida cracker cowboy barbecue and drinks, and prizes. Silent auction items include a fishing trip with Miami Dolphins' All-Pro lineman and former Florida Fish and Wildlife Conservation Commission Commissioner, Dwight Stephenson, and lunch with Jim Fowler. Items are available for bid at http://www.FloridaBlueGreen. com/Auction.
Notable wildlife advocates attending will include: Jim Fowler, host of "Wild Kingdom"; Harvey Oyer, author of Charlie Pierce books; Beau Turner of the Beau Turner Youth Conservation Center; and Captain Rick Murphy, star of "Florida Sportsman's Adventures." Recording artist Monique McCall will provide entertainment.
"We need everyone — government, industry, residents, the private sector — to support this event and help bring up Florida's next generation of conservationists who see the value in enjoying and protecting our state's greatest treasures," said WFF Executive Director, Bret Boston.
Tickets are $150. For more information, visit http://www.FloridaBlueGreen.com.
WFF was established in 1994 to provide assistance, funding and promotional support to ensure the preservation and protection of Florida's fish and wildlife resources for current and future generations of Florida residents and visitors.
For more information, visit http://www.WildLifeFlorida.org. •